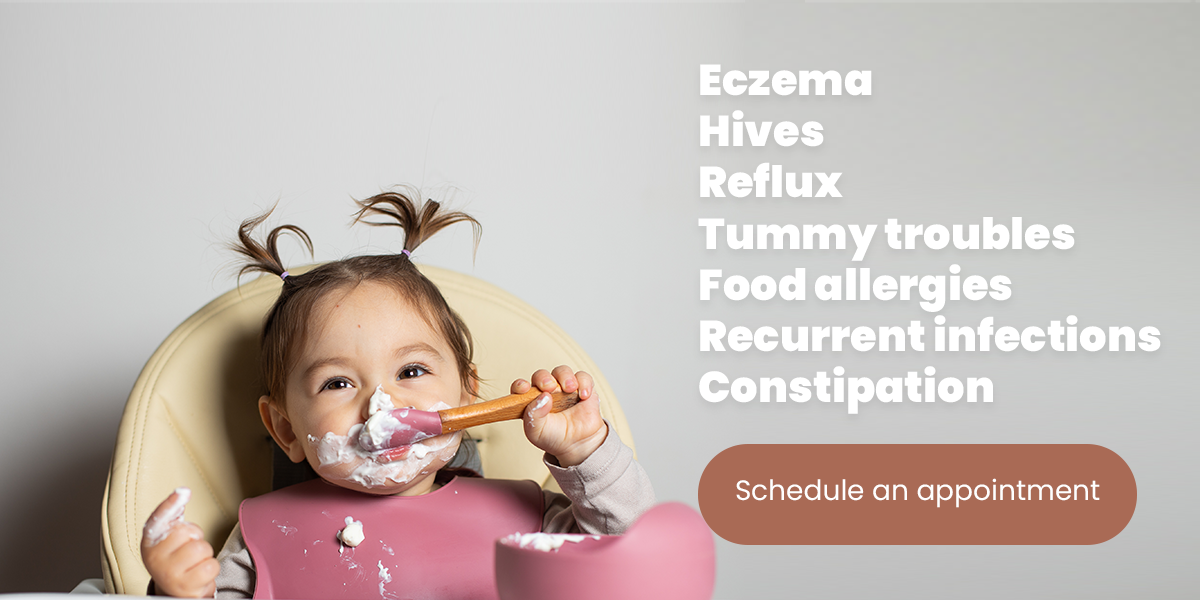 My work spans baby's first 1000 days – 9 months of pregnancy and baby's first two years.
I coach parents through responsive feeding techniques and baby nutrition support while focusing on immune-mediated troubles like:
Eczema
Hives
Food allergies
Reflux
Constipation
Recurring infection
Avoiding trigger foods isn't always the answer
Research on food allergies and eczema tells us that an inclusive diet before 12 months gives us the best results. Food diversity and allergen exposure can lead to greater tolerance later on.
When working with babies, I incorporate current science with the principles of traditional East Asian medicine. My approach includes:
Nutrition and dietary assessment
Traditional Chinese herbal formulas
No-needle acupuncture techniques, like tuina and shonishin
TCM food therapy
Topicals to strengthen your little one's skin barrier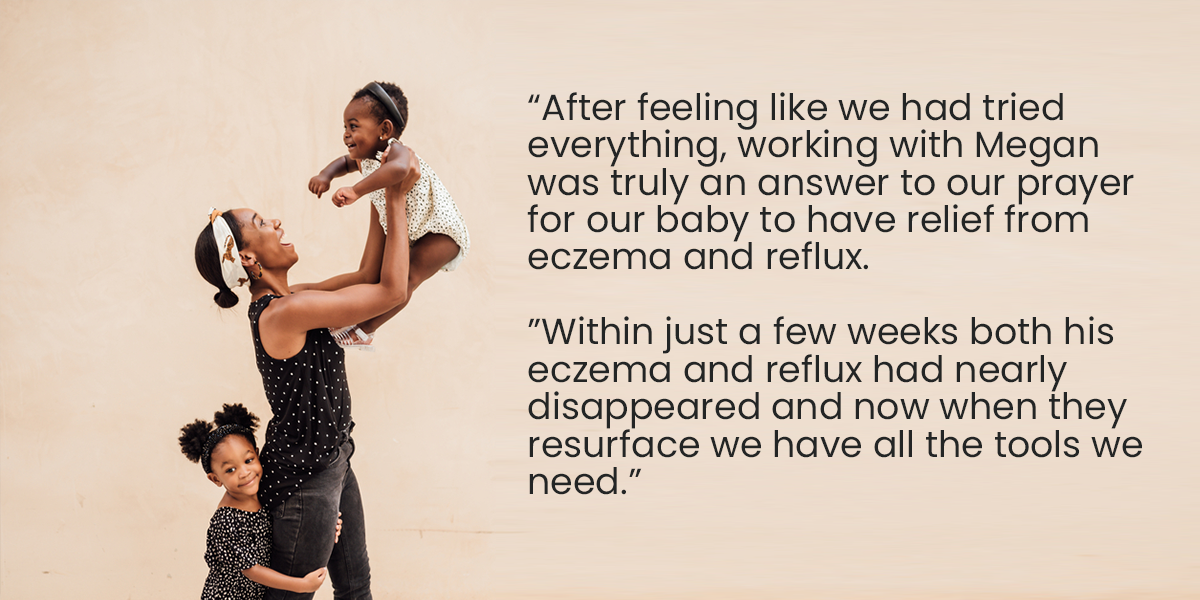 SCHEDULE AN APPOINTMENT WITH MEGAN
Thank the lord we have turned a corner I hope! The wailing in pain seems to have subsided. Sleeping better and overall happier!!!! Thank you thank you thank you for everything!
I want to thank you for helping me with all the concerns I had with my daughter, thank you for being supportive and for clarifying my doubts. I being following your program for about 2 months and I have noticed a huge difference in my baby's health, her eczema is now 90% clear, she was showing food sensitive to a LONG list of food, and now she can eat almost everything! She also had troubles with sleep, now she is falling asleep easier and stay asleep for almost 2 hours during night (that's better than 1 hour) That makes my heart feel so happy! I wish I've found you during my pregnancy.
Working with Megan was the best decision. Our daughter had a rare kind of eczema and Megan helped us to put the puzzle pieces together and implement holistic solutions to address the root cause. (When we went from pediatrician to dermatologist with our concerns unheard). Our daughter went from having head to toe eczema, hives and not being able to tolerate many foods; to clear skin, better gut health, and a eat a wide variety of foods. She only has occasional flares now! Megan gave us the tools to implement when a flare happens, that peace of mind- of knowing we have tools and someone who supports us, is just priceless. We will be forever thankful for her wisdom and kindness.
My son has a ton of allergies and it's been difficult finding creative ways to add different foods and vitamins into his limited diet. Mamas know how stressful it can be to make sure our little ones are getting all the nutrients they need to grow and thrive and more than anything, Megan, we can't thank you enough!
After feeling like we had tried everything, working with Megan was truly an answer to our prayer for our baby to have relief from eczema and reflux. Within just a few weeks both his eczema and reflux had nearly disappeared and now when they resurface we have all the tools we need.