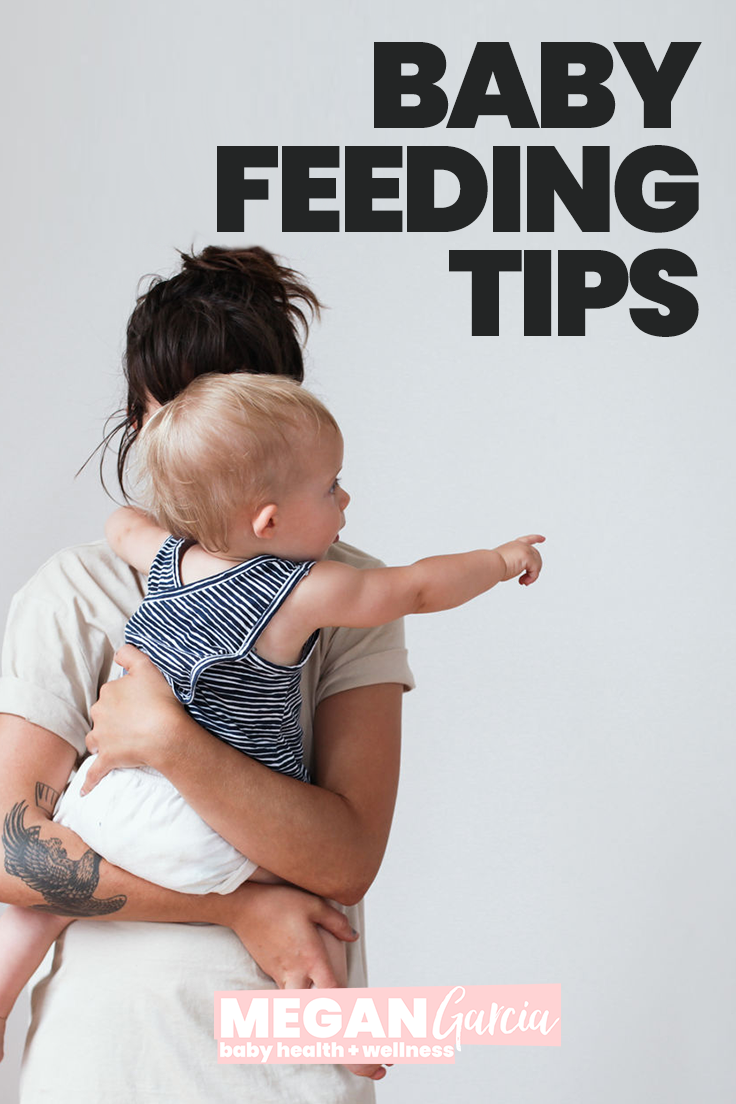 Do a little digging, and you'll find the internet brimming with baby feeding tips and styles. And when starting baby on solids, you might hear about baby-led weaning, purees, or folks who do a little bit of both.
But as it turns out, the most valuable baby feeding tip might be something called responsive feeding.
Responsive feeding starts with baby's very first feed at the breast or bottle, continues through the introduction of solids, and carries on into toddlerhood.
What is responsive feeding?
During responsive feeding, mama (or caregiver) "tunes in" to baby's cues. These cues signal either interest in food or fullness.
As baby communicates with cues, mama picks up on them and responds in a way that makes sense.
By doing so, the lines of communication between mama and babe are strengthened.
But beyond that, there are other benefits: Responsive feeding also prompts self-regulation.
Whereas non-responsive or controlling feeding takes feeding choices away from baby along with the opportunity to self regulate.
Cues to look for when feeding baby
When it comes to feeding baby, there are dozens of subtle cues that signal interest in food or fullness. These cues are especially important early on when your little one hasn't yet developed the ability to voice opinions or do much more than cry.
Your job is to pick up on these cues and respond.
For example, your newborn may show an interest in feeding by getting more agitated, turning towards the breasts, bringing hands to mouth, and becoming more distressed until letting out a hunger cry.
But what if all you hear is the cry and at that point, you're tired and unsure what's going on.
This is when catching hunger cues can make a difference.
Cues that signal an interest in feeding
Opening and closing mouth repeatedly
Opening mouth wide
Rooting or nuzzling
Mutual gaze
Reaching towards your face
Turning the body towards your breasts
Hands towards torso, this is a feeding posture
Sucking on hand or bringing hands to mouth
Cues that signal fullness and the desire to stop eating
Crying
Turning their head away
Arching of the back
Looking away
Give skin-to-skin, whether bottle fed or breastfed
Catching cues of fullness is incredibly important when feeding baby because it allows your little one to self-regulate from the very start.
And unfortunately, it turns out that this is harder to do with babies fed from the bottle. This includes pumped milk and formula.
Research shows that breastfed babies are more engaged than bottle-fed babies and drop more cues from mama to pick up on. Babies who feed directly from the breast determine when, how long, and how much is consumed.
Which means they may feel more equipped to communicate fullness.
One way to work around missed cues with bottle feeding is to feed your baby skin-to-skin during baby's first three months.
It's thought that skin-to-skin contact is one reason why breastfed babies offer more cues.
Feed to nourish, not to soothe
Your little one cries for many reasons. Hunger is one. But it's important to keep in mind that there are other reasons for baby's distress and food – even magical breast milk – is not a cure all.
TBH, I'm one hundred percent guilty of offering breastmilk anytime there was an upset.
Bumped your head? Can't sleep? Feeling the feels? Here, have some breastmilk!
The problem of using food to soothe is obvious for adults; #comfortfood. But for some folks – me included – it gets confusing once you throw breast milk into the mix.
On this point, the science is pretty clear: Feed baby to nourish, not to soothe.
Soothing techniques that don't involve feeding baby are things like:
Walking with baby
Holding
Touch and massage
Swinging
Singing
Swaddling
Babies need to learn the difference between hunger and other forms of distress like feeling tired, scared, or overstimulated.
And feeding baby as a soothing technique may teach your little one to use food as a way to regulate hard emotions.
Avoid see-through bottles
In 2018, researchers from CalPoly University found that mamas were more sensitive to baby's cues – and fed their baby less – when using an opaque bottle rather than a see-through bottle.
This was true for pumped breast milk and for formula.
While pressuring baby to finish a bottle can increase how much baby eats, it can also teach your little one to ignore feelings of fullness.
There's a good chance that breastfeeding is associated with less controlling feeding because when breastfeeding, mamas simply have no idea how much their little one consumes.
So they're more likely to follow baby's cues and practice responsive feeding.
Whereas bottle feeding mamas count ounces and are more likely to feed according to a schedule.
In addition, how long you breastfeed your baby is linked how much you control your little one's eating behavior. Less time spent breastfeeding can predict how controlling mama might be one or even two years later.
In short, breastfed babies are more in control during each feeding.
Because of this, they're more likely to rely on internal feelings of hunger rather than external prompts to eat, like how much to eat.
You can mimic this effect and let go of ounces by using an opaque bottle, like the ones from Pura or Klean Kanteen.
Do you have any baby feeding tips to share? Drop them in the comments below!