With baby allergies on the rise, parents want answers. The most current recommendation: include common allergens (like cow milk, egg, wheat, and peanuts) in your baby's diet before 12 months.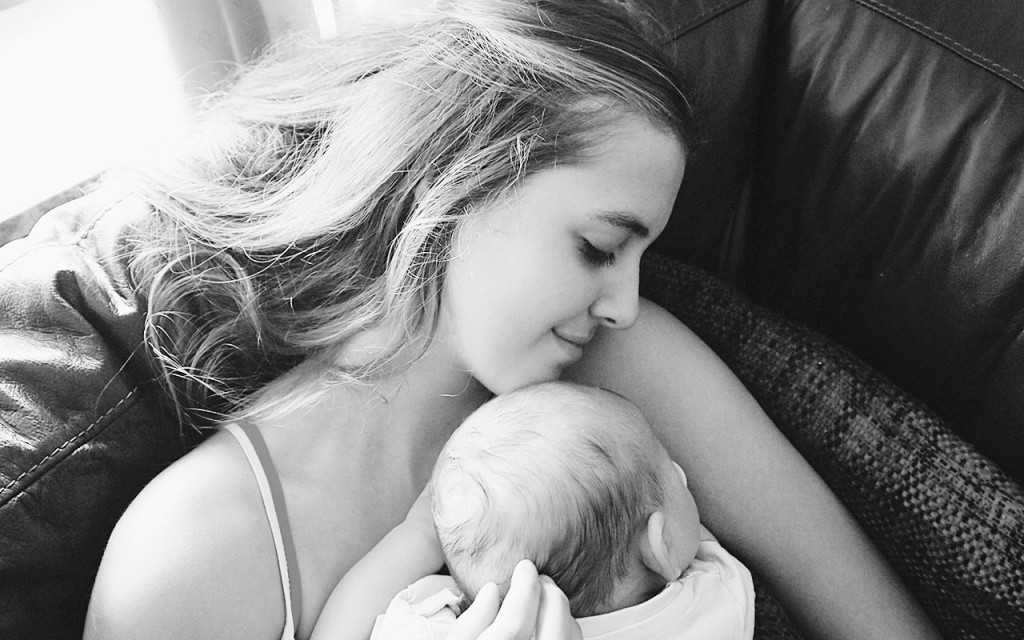 These days, it's common for a mama to avoid giving her baby gluten – because gluten has such a bad rep for destroying the gut wall.
But science around the immune system, allergies, and food tolerance tells us that exposure can do good things for your baby – and it might actually protect against allergies.
I'm not suggesting that you give your baby Cherrios if you eat a strict paleo diet.
But if a well-meaning relative slips your 7-month-old a bite of cake – try not to freak out. And chalk it up to "education" that your baby's immune system needs in order to develop tolerance around allergenic foods – like cow milk, eggs, wheat, and peanuts.
Is It A Food Allergy Or Colic?
A food allergy is when your baby is unable to tolerate food proteins – either in breast milk or once your baby begins solids. Usually, you will discover the offending food with an elimination diet and maybe a food allergy test. This is different from a food intolerance, which is more about a digestive flaw than an immune response.
It's important to note that even with a positive food allergy test, a well-tolerated food should not be removed from your baby's diet – for the reasons mentioned above. Exposure – if tolerated – is a good thing.
The only time to remove a food (and try it again later if the response is mild) is when you see signs of baby allergies. From minutes to 2 hours after eating a food, this can mean:
Hives
Swelling of the skin and mucosal tissue (around the eyes and nose)
Red patches on the skin
Itchiness
Vomiting
Abdominal pain
Cough
Wheezing
Nasal congestion
What Causes Baby Allergies?
The exact cause of allergies is unknown. Scientists speculate that allergies may be tied in to these factors:
The hygiene hypothesis – smaller families and urban living might "weaken" the immune system, whereas living on a farm or even having a dog + multiple siblings strengthens it
Early antibiotic use
C-section delivery
Early exposure to antigens or trigger foods, such as cow's milk formula
A mama's own immune system – which directly influences + informs the development of baby's immune system via breast milk
Genetics
For example, one study out of Australia found that the presence of a dog in home decreases the risk of egg allergy. That same study found that babies with older siblings also had a reduced risk of egg allergy at 1 year. There's also some evidence that early antibiotic exposure increases the risk of cow milk allergy.
When it comes to gut health, there's a slow shift away from Bifidobacteria as a breastfed baby ages – especially when solids are introduced. In short, the tribes of microbes living in your baby's gut become more varied and diverse.
This does very specific things for your baby's immune system and helps to create balance.
Without the trigger of gut microbes, a baby's immune system is skewed towards allergies or autoimmune disease – animal studies suggest that there's a specific window of time when this happens and when probiotics can have the greatest impact.
The proteins in breast milk – from food that mama eats – can either sensitize her baby (leading to allergies) or support tolerance to an allergenic food. And this seems to partially depend on a mama's own immune system and whether or not she has a history of allergies or eczema. For example, along with these food proteins from egg or cow milk – are there also proinflammatory signals in a mama's breast milk? If so, this may increase the risk of allergies in baby.
One last thing: It appears that the fatty acids in breast milk (specifically omega-3s) impact the immune system and the development of allergies – basically, in westernized countries where allergies are on the rise, we're seeing a diet filled with far too many omega-6s and far too few omega-3s. Make a few tweaks in your own diet to change that, and you're doing good things for your baby.
7 Tips For Managing Baby Allergies
There's no cure for baby allergies. Oftentimes, a food allergy will go away as your child hits the age of 3 – 6, sometimes as early as 12 months. Because allergies are on the rise, it turns out this is happening less and less.
Managing an allergy usually means avoiding the trigger food.
Currently, the recommendation is to include common allergens (like cow milk, egg, wheat, and peanuts) in your baby's diet before the age of 1. This is because exposure to food proteins from 3 – 4 months and 6 – 7 months is now thought to protect against allergies.
But what can you do if you think (or know) your child has an allergy? Here are some tips that are backed by science. If you have any suggestions of your own, I'd love to hear about them in the comments below!
1. BREASTFEEDING
Breast milk – even though it *might* trigger baby allergies – is generally thought to protect against allergies and support baby gut health.
This has to do with the special sugars in breast milk that feed good baby gut bacteria. If possible, exclusively breastfeed for 6 months and continue breastfeeding for 1 – 2 years (or more). Remove foods from your own diet that trigger a response. The most common culprit is cow milk.
2. PROBIOTICS
Probiotics can support your baby's immune system and reduce the risk of allergies. But this is strain specific.
If you use a probiotic early on, chose a line with Bifidobacteria. Lactobacillus rhamnosus is another strain that (ideally) is taken by a mama during pregnancy and while breastfeeding (probiotics can travel into breast milk via the enteromammary pathway!!) – and is given directly to baby after 3 months.
3. FERMENTED FOODS
Fermented foods are a prebiotic (meaning they feed microbes) and they contain live probiotics.
Examples include fermented veggies, coconut water kefir, goat milk kefir, and sheep's milk yogurt.
4. OMEGA-3S
Foods that are rich in long-chain (already converted and less work) omega-3 fats support gut and immune health.
If breastfeeding, this means your own diet is filled with these foods or you supplement. As you begin to introduce solids, focus on these foods for your baby. For example, steamed wild-caught salmon.
5. ANTIOXIDANTS
Like long-chain omega-3s, foods rich in antioxidants – like blueberries or sauerkraut – help to modulate (or balance) the immune system.
Antioxidants like Vitamin C and E, carotenoids, flavonoids, selenium and zinc might help to protect against eczema and allergies – especially respiratory allergies.
6. CHINESE HERBS
There's a company called Classical Pearls and they offer a formula – Cinnamon Pearls – that supports gut and immune health in the case food sensitivities or mild food allergies. Only a practitioner can order these herbs for you.
7. ORAL IMMUNOTHERAPY
If allergies are severe enough to warrant an EpiPen, you might want to look into oral immunotherapy, which involves introducing very, very small amounts of the trigger food in a controlled setting.
Finally, if respiratory allergies or eczema are a problem, toddlers and children do really well with Springboard Hist-D Jr. – a chewable with flavonoids, antioxidants, and botanicals that control histamine levels.
Are you struggling with baby allergies? Let me know in the comments below.