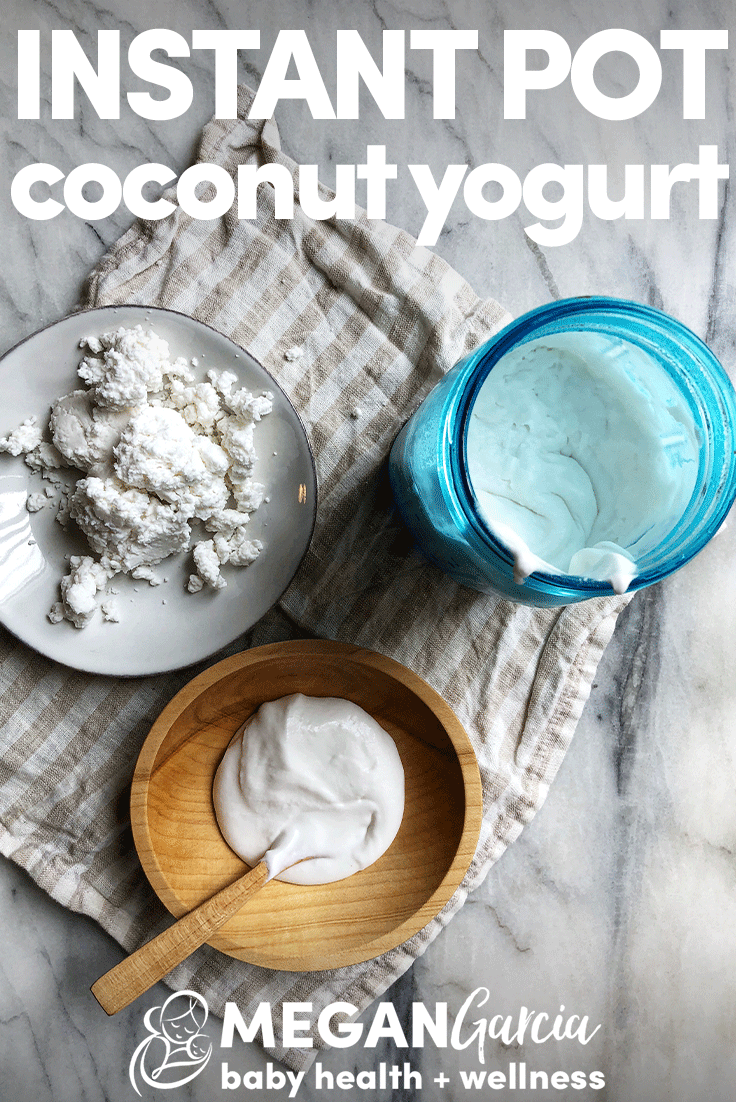 Are you on the hunt for an Instant Pot coconut yogurt recipe that's thick and easy? Me too. Or at least, I had a strong hunch that all the coconut yogurt recipes with gelatin, agar agar, tapioca starch, thermometers, sweeteners, and canned coconut milk were missing something.
I kept thinking to myself, it shouldn't be this hard. Or complicated. Coconut is easy to ferment.
Beyond that, I'm passionate about giving good food to babies. Canned anything is less-than-awesome for mama and little tummies. So, I had to follow my hunch and do the one thing I had never heard anyone do but that seemed ridiculously obvious.
Ferment coconut butter.
And that's it. That's the secret to this #thiqq raw coconut yogurt with all the natural curves and body you've been dreaming of.
What I learned from fermenting coconut meat in my shower
Not to date myself or anything, but literally 10 years ago I was fermenting blended coconut meat in my shower because I lived in a tiny studio at the tippy top of the Los Angeles mountains – with no kitchen – and that stuff will explode on you.
I had picked up the how-to from Donna Gates, who invented coconut water kefir. You know, before it was ever a thing.
In those days, I would get young green coconuts, open them, and ferment both the coconut water and the meat. Using the Body Ecology starter, coconut water became kefir. And with a little splash of kefir or starter culture, you could ferment the coconut meat too.
It was delicious.
Fermenting all those bubbling jars of kefir and coconut meat taught me a couple things. For starters, coconut water and meat are naturally sweet. Which means that they're easy to ferment since any starter culture you use – whether it's a probiotic capsule or the Body Ecology starter – will need to feed on sugar.
It also taught me that coconut meat – and by extension coconut butter – is fatty and fibrous. Fiber is fodder for microbes and this is exactly why you can ferment coconut butter. Becuase it's fibrous.
Be prepared for some grit
If you've ever eaten coconut butter, you know what it tastes like.
It's sweet, creamy, and there's grit to it. That's the fiber. And so we're all on the same page, it doesn't go away when you ferment it.
When comparing this coconut yogurt to others on the market, it's fair to say that this coconut just as thick and creamy – with texture. I'm okay with that, as most folks and wee ones could use more dietary fiber.
I guess you could say I even advocate full-fiber, full-fat coconut yogurt.
Because all the fiber feeds your bacteria living in the colon, which then go on to make short-chain fatty acids that protect against inflammation. If you're pregnant, these SCFAs even speak to baby's genes and optimize their expression.
#gofiber.
Instant Pot coconut yogurt recipe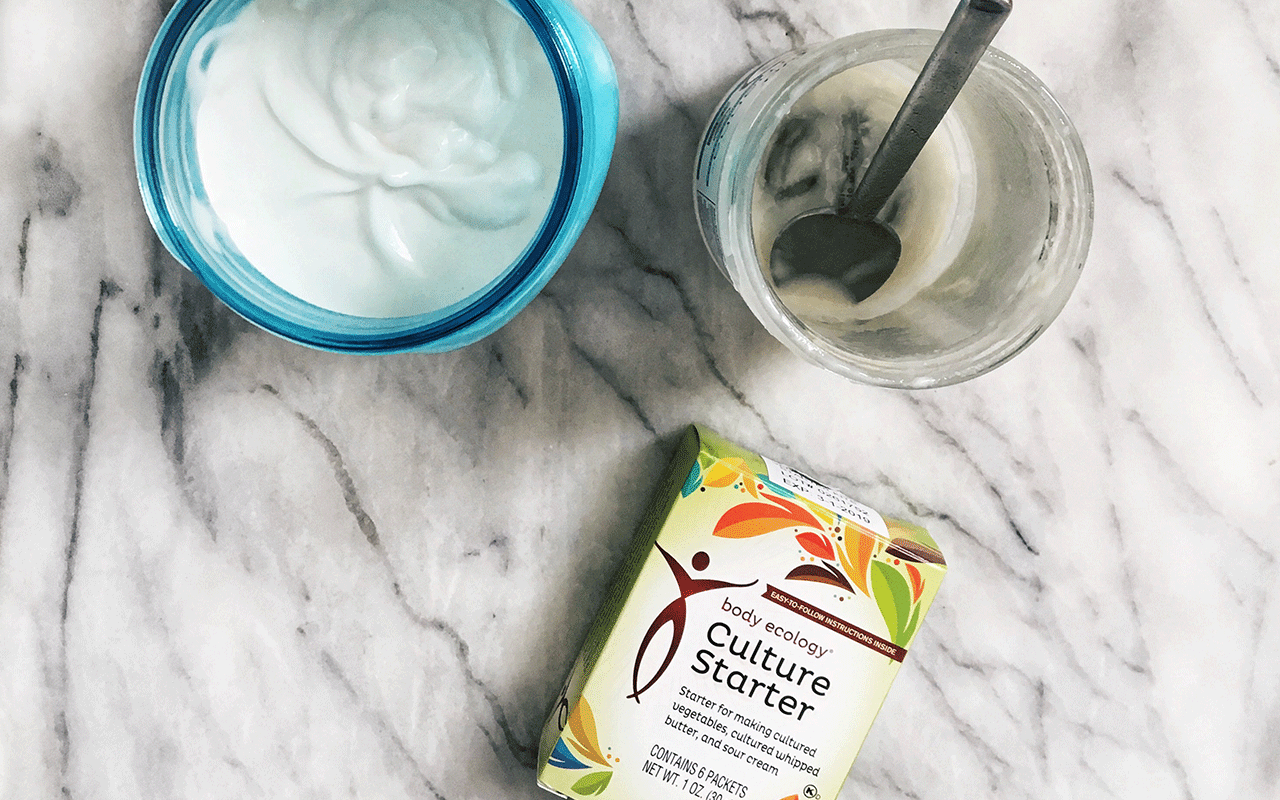 To make coconut yogurt, you'll need a large quart jar, 2 smaller pint jars for the Instant Pot, an immersion blender, and an Instant Pot that has the yogurt setting.
If you use equal parts coconut butter and water, the finished product will have the texture of a soft, spreadable cheese. If you use the portions below and let it sit in the fridge for 24 – 48 hours, it will be thick and spoonable like greek yogurt.
Ingredients
Instructions
Add warm water to a quart sized mason jar.
Add the starter packet and set aside to bloom for 10 minutes.
Next, add coconut butter to the jar with the water and culture starter. Blend with an immersion blender. Divide this into 2 pint sized mason jars.
Screw lids on the jars. For the pot-in-pot method: Place your wire rack in the Instant Pot and add 1 cup of water to the pot insert. Then place your two jars of blended coconut butter on the wire rack. Lock the lid and set to yogurt for 8 hours.
Once the coconut yogurt is done, it should pop from pressure when you open it and smell fresh. Place jars in the refrigerator. Over the next day, the yogurt will continue to thicken.
Did you try this Instant Pot coconut yogurt recipe? Let me know how it went in the comments!