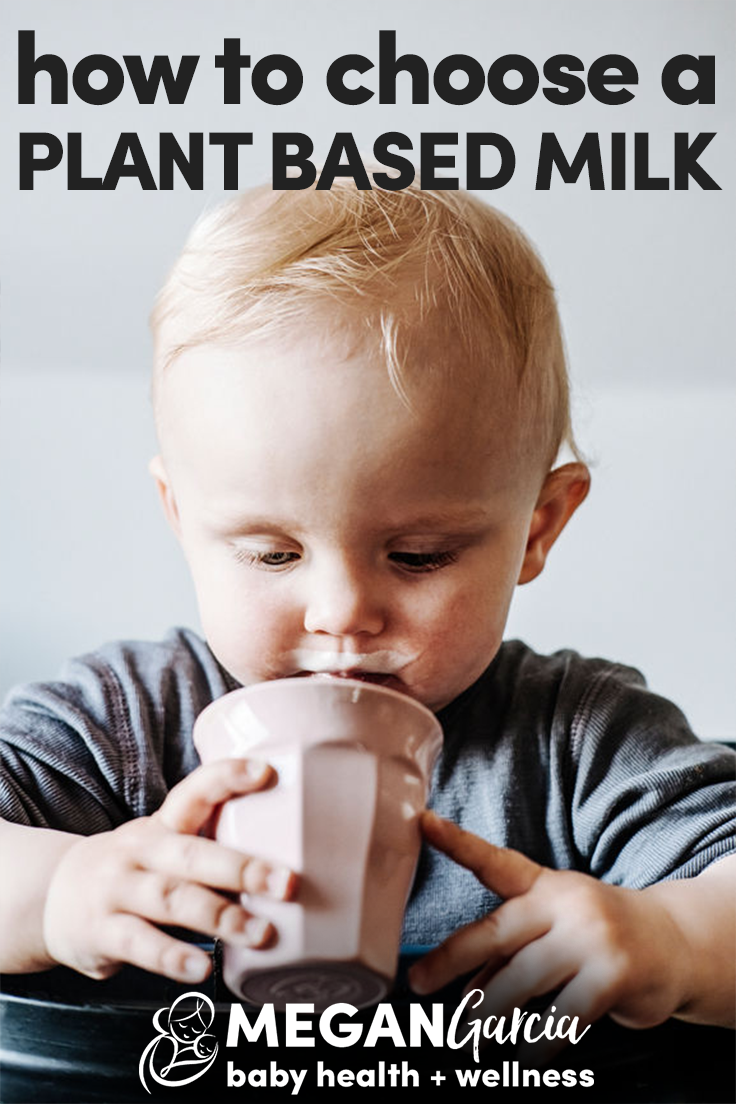 You may want to give your baby a plant based milk because you suspect allergies. Or maybe your family follows a special diet, like an AIP or paleo diet.
In some cases, not only is dairy an issue, but nuts are too.
With the right diet, babies don't need milk. While there are benefits to dairy – like better brain health and blood sugar control – there are other ways to give your little one what dairy offers.
But the one thing that you can only get from dairy is exposure to dairy proteins, which are a common allergen.
Up until around 12 months, there's a good chance that exposure to common allergens can protect against food allergies later in life. Signs of cow milk allergy in toddlers include:
Vomiting
Loose stools
Fussiness or trouble sleeping
Reduced weight gain
If you want to find out more about allergens for baby, click here.
In this post, we'll run through what sort of nutrition you'll find in plant based milk and what you may want to add to your baby's diet if offering plant based milk regularly.
Plant based milk for toddlers
A survey published in 2017 showed that fewer folks are drinking cow's milk. Of those who participated in the survey, half reported that they purchase plant based milk because they see it as more nutritious.
But this is far from true.
Most plant based milk that you find on supermarket shelves is stripped of nutrients and contains added salt.
Because plant milk is made from a water extraction, similar to tea – rather than the pulp – many nutritional benefits in the pulp are lost.
In an interesting study published in the American Journal of Clinical Nutrition, researchers surveyed toddlers ages 24 – 72 months. They found that for every daily cup of non-cow milk kids drank, they were 0.4 centimeters shorter than their average age. Likewise, mixing non-dairy milk with cow's milk still resulted in toddlers who were shorter than average.
This doesn't mean plant based milk is "bad."
But because height can be an important marker, it implies that there may be some nutritional differences that are worth looking at, especially if you use plant based milk as a healthy alternative to cow, goat, or sheep's milk.
What milk has that plant milk doesn't
Calcium. You may already know that milk is a source of calcium. But did you know that it's an especially good source of calcium because it contains other things (like casein) that help to actively move calcium into the cells of the small intestine?
As it turns out, adding calcium to plant based milk isn't worth much if you're body can't use it. Make sense, no?
Other places you can get non-dairy calcium: Canned bone-in sardines, dried figs, dried gooseberries, dulse seaweed, broccoli, kale, and sweet potatoes.
Vitamin D. It's true that unfortified milk is naturally low in vitamin D. But wherever you get your vitamin D – from sunshine, food, or supplements (I recommend all three) – vitamin D encourages the expression of calcium binding protein. Like the protein casein, calcium binding protein helps moves calcium into cells so that you can use it.
The issue here is that kids who exclusively drink plant based milk appear to have lower levels of vitamin D than those who drink cow milk.
Other places you can get vitamin D: Offal like liver and kidney, egg yolks, and seafood. Remember that vitamin D is concentrated in the fat. I also recommend a daily vitamin D supplement.
Casein. An important protein that builds immune tolerance, casein also helps transport nutrients like calcium, phosphorus, and vitamin D into your cells.
Iodine. Did you know conventional cow milk is major source of iodine? I know, right?
As it turns out, there's concern about the growing interest in organic milk and plant based milk because these kinds of milk have only a fraction of the iodine found in conventional dairy.
No worries though if you never, ever consume iodized salt or conventional cow milk. Just make seaweed a regular thing.
Other places you can get iodine: Seaweed snacks and seafood. I love using dulse flakes on baby's food.
Choline. For some babes, dairy is a pretty important source of choline, which supports baby's brain development.
You'll also find choline in breast milk and added to formula, because it's THAT important. In breast milk, the body works hard to maintain a consistent level of choline throughout baby's first year.
Plant based milk nutrition
Almond milk
While almonds are high in protein, almond milk is not. Trace minerals are also lost – such as magnesium, copper, and calcium.
Although store-bought almond milk is often fortified with calcium and vitamin D, it's tough to say how much of this is actually absorbed since added nutrients appear to be less bioavailable.
Rice milk
When it comes to rice milk, the issue is arsenic.
Rice is naturally high in arsenic and processing does not remove it. Levels of inorganic arsenic in rice milk exceed both US and EU standards of arsenic in drinking water.
Pea milk
Pea milk – like soy milk – has high levels of protein. The different between pea milk and cow milk is that it's not a complete protein, meaning it doesn't have all essential amino acids. So long as your kiddo is getting other sources of meaty protein throughout the day, this is okay.
Pea milk also contains other nutrients like iron. And like its plant based milk cousins, pea milk is fortified with calcium, potassium, and vitamin D.
Gums, stabilizers, and emulsifiers
Many types plant based milk contain additives to improve the look and taste of the milk. Some emulsifiers like carrageenan, carboxymethyl cellulose, and polysorbate 80 inflame the gut and are potentially harmful.
Others act as a prebiotic in the gut. Meaning the microbes in the large intestine consume and ferment gum-sourced stabilizers. In some cases – this is a good thing.
But some folks – and some small humans – have a hard time with fermentable things.
If you notice persistent tummy troubles or fussiness, take a look at your labels. You may want to completely avoid added gums.
As a rule, I look for products that have minimal ingredients. For example, Thrive Market has some great options under the Thrive brand that are completely free of additives, like these:
If you're shopping for a plant based milk at your local market, look for Malk almond or cashew milk, which is available in the refrigerated section.
How to make plant based milk at home
This method is my go-to when I run out of raw goat milk (my other go-to). I find sesame seed butter works really well with cacao because of the bitter tones in each. They just make sense. Sometimes I add a teaspoon of ghee to give it a milky flair.
In case you were wondering, coconut butter tastes less than fabulous when blended with medicinal herbs.
Almond butter and tahini will leave a sediment at the bottom of your glass. And cashew butter blends up beautifully.
Ingredients
1 tablespoon of nut or seed butter
8 ounces of warm or hot water
Instructions
Place all ingredients in a high powered blender or use a jar and your immersion blender.
Blend and enjoy!