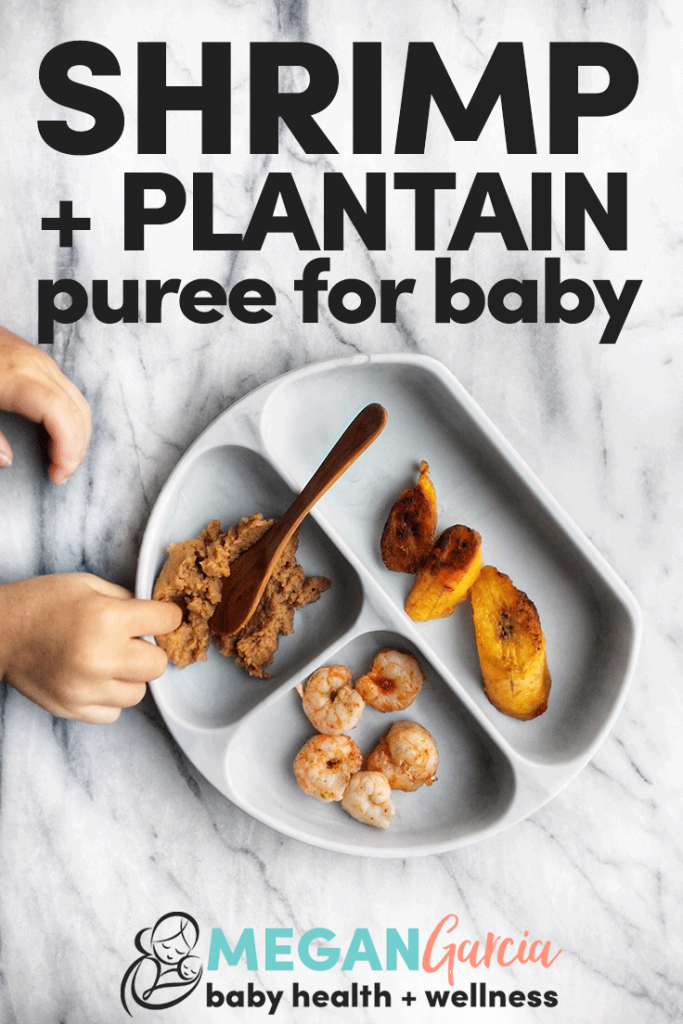 Allergen exposure during baby's first 12 months (yes 12 months! Breastfeeding counts too) does a very good job at protecting against allergies later in life. Which is what inspired the idea for this shrimp and plantain puree for baby.
Shrimp – along with crab, lobster, oysters, and scallops – can be a problem for kids with shellfish allergy.
But for most mamas, crustaceans aren't the easiest thing to incorporate into baby's diet.
Enter plantains.
From hot Jamaican curry to Puerto Rican mofongo and Dominican tostones – briny shrimp and starchy sweet plantains make sense together. If you do a quick search, you'll find plenty of recipes from the Carribean that feature this duo.
For the love of selenium
Did you know the mineral selenium has a major impact on baby brain development? Selenium also supports robust immune health.
For example, mama selenium levels during pregnancy are related to motor development at 12 months and language development at two years. And low selenium level during the third trimester and six weeks postpartum have been linked to early infection in baby.
If you're breastfeeding, selenium levels in breast milk are dependant on your diet and selenium status. That said, many postpartum mamas tend to have less-than-optimal selenium levels and roughly 30% of breastfed babies do not get enough selenium.
The current issue with formula is that it contains inorganic selenium and may be harder for babies to absorb.
All this to say that shrimp happens to be very HIGH in selenium.
Other sources of selenium include brazil nuts, tuna, and sardines.
Besides selenium, shrimp also contains:
Vitamin B12
Vitamin D
Choline
Iodine
Iron
Zinc
Small amounts of DHA
While you can easily find vitamin B12, iron, and zinc in other meaty foods – vitamin D, iodine, and DHA are a little harder to come by.
Which means that shrimp is a legit superfood.
And I'm SO happy to share a recipe that's both easy and delicious.
Ingredients for shrimp plantain puree
A quick note on ingredients.
For this recipe, I use cleaned and uncooked frozen wild pink shrimp from Whole Foods. If you shop with Vital Choice, these blue shrimp are the ones to get since they're sustainably harvested and fair trade certified.
Click here for more about shrimp quality.
While you're shopping, also grab a plantain (they're usually near the bananas) along with tomato paste and a small jar of red Thai curry paste.
Yes, red Thai curry contains added salt.
But the recipe only calls for 1/2 teaspoon. Do a little math, and you'll realize that this means 5 mg of added sodium per tablespoon of shrimp plantain puree.
Really, NBD and it still tastes delicious. That's because tomato paste acts like a little umami bomb and bumps up the flavor so much that adding more salt isn't really necessary.
About plantains: if you feel the itch to use bananas instead of plantains, resist the urge. I tried this recipe with bananas. It was cloyingly sweet and missing the body and fluff that plantains give.
Besides that, plantains have a lovely pale orange color, which means that they're a good source of beta-carotene when combined with fat to help with absorption.
Plantains are also high in vitamin C and they contain trace minerals potassium and magnesium.
Shrimp plantain puree recipe
Ingredients
1 plantain, sliced 1/2 inch thick
1 cup frozen shrimp – about 10 to 15 count
1 tablespoon ghee
1 heaping teaspoon tomato paste
1/2 teaspoon red Thai curry paste
1 cup bone broth
Instructions
Add ghee to pan on medium heat. Once hot, add plantain. Cook for 3 minutes.
Flip plantain slices. Add shrimp.
Cook shrimp for 2 minutes. Flip shrimp and cook for 1 minute more.
Next add tomato paste, red curry paste, and bone broth. Stir. Quickly bring to a boil and then remove from heat.
Blend everything into a puree.
Yield: Makes about 5 ounces
Did you make this shrimp plantain puree recipe? Let me know your thoughts or tag me on Instagram!