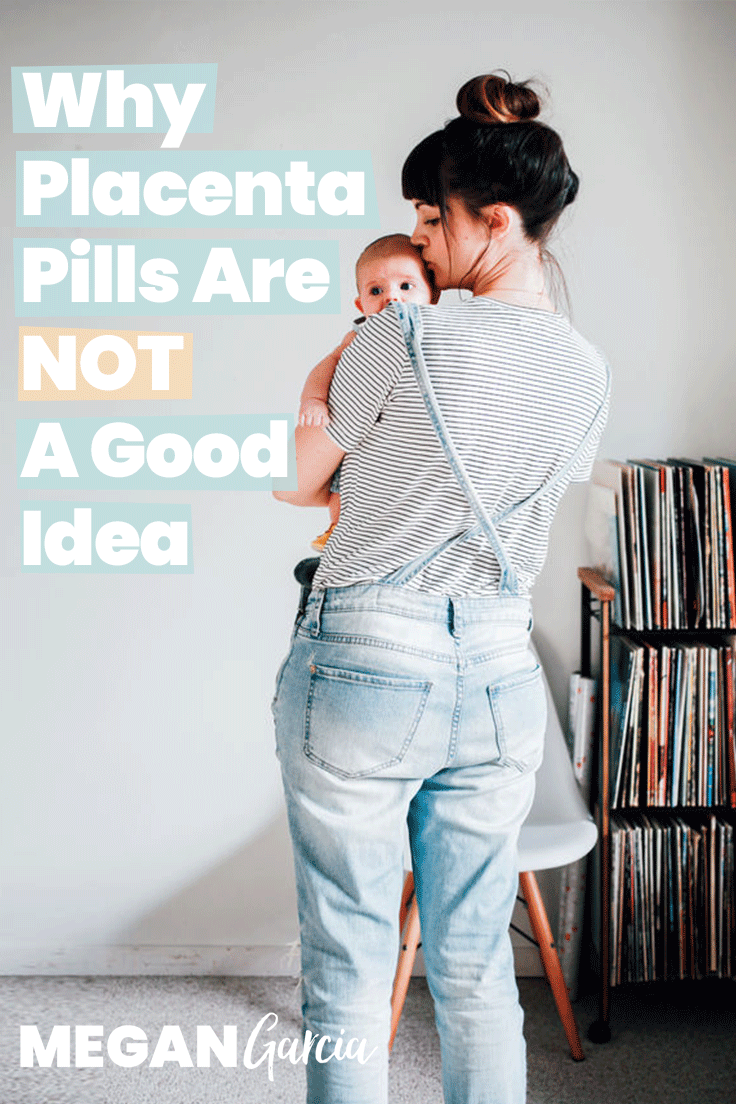 Placenta pill poppin' mamas, bear with me. While I am all about keeping you well nourished after your little one arrives, I'm not so sure your baby's placenta is the way to do it.
Yes, placenta pills may lift your energy and your mood.
But this isn't the case for everyone.
Are placenta pills right for you?
For years now, I have heard mixed reviews about placenta encapsulation.
Not everyone loves their placenta pills. There's even a Facebook group dedicated to the topic because some mamas feel a little alienated by their negative experiences.
Here's the thing: Postpartum placentophagy – or, eating your placenta after delivery – alters the natural flux of hormones that takes place after birth.
This natural hormonal shift is important because it triggers milk production.
While other animals do eat their placenta after giving birth, this doesn't necessarily mean that we need to follow suit. Until recently, there's no evidence that humans ever ate their placenta after delivery.
With placenta pills growing in popularity, the reasons why you wouldn't want to consume your own placenta are worth talking about.
Not only because there's a spectrum of experiences to share. But also because placenta pills can interfere with breastfeeding. And when taken raw – as a shooter, in a smoothie, or simply dehydrated at low temps – your placenta can be the source of infection.
Bottom line: Placenta isn't a happy fix for everyone.
Want to know more about what's really going on? Let's take a look.
Placenta pills may slow down or stop milk production
The most important and overlooked point is this: Your placenta is a source of the pregnancy hormones estrogen and progesterone. And these hormones interact with other hormones, including the one responsible for milk production, prolactin.
After birthing your baby and your placenta, the withdrawal of progesterone triggers breast milk production. This leads to the secretion of prolactin.
Even though progesterone is the trigger, it happens along with a drop in estrogen. According to some reports, estrogen alone is enough to suppress the production of breast milk and this is why there's also concern around using oral contraceptives during mama's postpartum recovery.
It's important to note that there's still a bit of mystery around breastfeeding hormones. For example, a drop in estrogen initiates breast milk production…but estrogen itself also stimulates prolactin.
That said, there's enough evidence around estrogen-containing contraceptives and their impact on breast milk, that it warrants caution when taking placenta pills, which contains active estrogen.
By taking placenta pills, you're continuing to give your body pregnancy hormones.
And if that's not enough to raise red flags, consider this account from Sarah Hollister, a nurse and International Board Certified Lactation Consultant who works with nearly every new mom and baby at a group of four primary care health centers in Northern California:
I went back to the previous cases I had encountered of moms who never established a full milk supply or whose babies took 4-6 weeks to regain their birthweight despite immediate and extensive lactation support, and interviewed them about this piece of information. I found that nearly all had consumed their encapsulated placenta.
According to Sarah, she has noticed an "alarming trend" of mamas with low milk supply and babies who are not putting on weight. Despite the fact that these mamas were otherwise healthy and had given birth at home, at a lactation center, or in a hospital with the support of a doula.
All things that set you up breastfeeding success.
Placenta pills during postpartum aren't really TCM
TCM, as in traditional Chinese medicine.
Popular websites explain that,
consuming the placenta, often done as placental encapsulation, is centuries old, practiced most often in Chinese medicine.
But major scholars who have spent a good part of their life investigating classical Chinese texts argue that in Chinese medical literature, there is no evidence of women consuming their own placenta after delivery.
None. Zero. Ziltch.
That said, every major TCM textbook lists human placenta as a "herb." This herb has a therapeutic value as a tonic – but not one to support postpartum recovery. It's also not taken alone without other herbs to balance its effects. And under the right conditions, placenta can even make some folks feel worse.
The most common "side effect" of placenta pills that I hear about are depression and anxiety.
According to Sabine Wilms, a historian specializing in classical Chinese gynecological literature, placenta was never consumed to speed postpartum recovery. But it was buried in a very specific way.
Sabine explains that as a medicine, placenta is extremely potent. Certainly not for everyone or everyday use.
But "I felt great when taking my placenta pills"
So. Many. Women report feeling amazing when taking their placenta pills. And if that's you, fabulous. I'm cheering for you.
And sometimes, it helps to know why this really great thing didn't give you the experience you were hoping for. If you're surrounded by well-meaning folks who urge you to continue taking your placenta, now you've got a little stack of resources to explain why you'd rather not.
Did you take placenta pills? Share your experience in the comments.
SaveSave