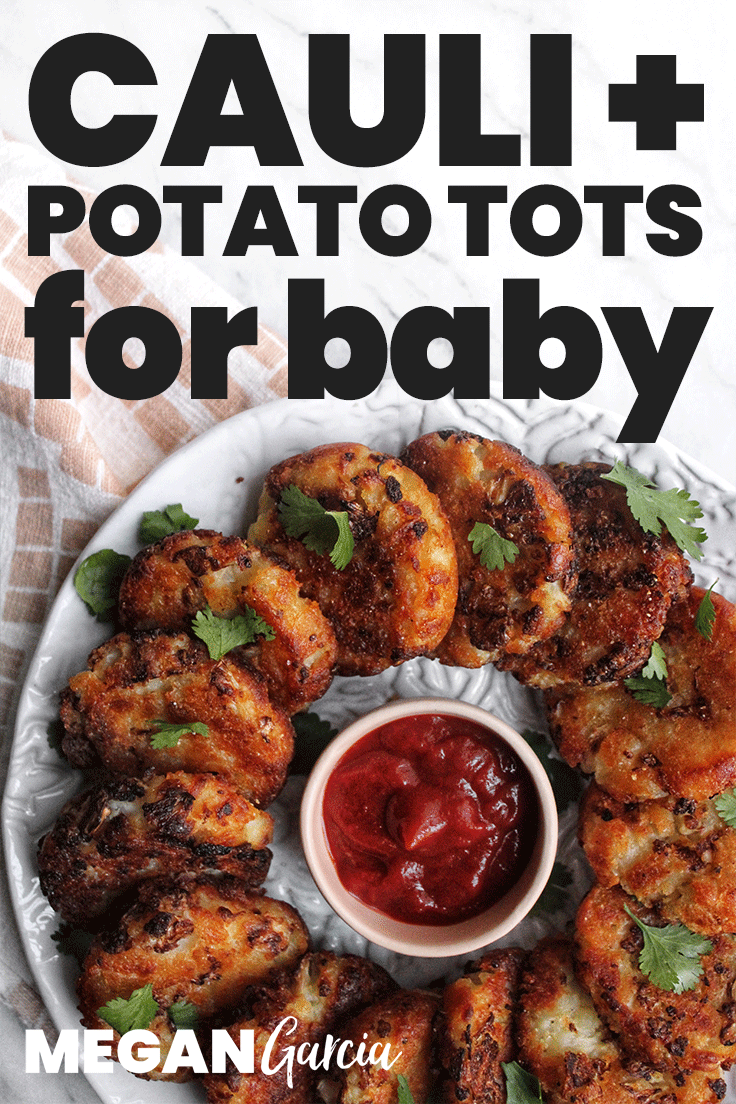 When I stumbled on a Food Network muffin tin potato tots recipe, I knew I could add my own twist and make them baby friendly.
For starters, I began with peeled and halved potatoes and skipped the stovetop boil. A pressure cooker is so much easier IMO!!
Also, double-check to make sure your potatoes aren't green beneath the skin. That green color means that your potatoes – even when peeled – are high in solanine, a natural plant pesticide. Solanine can cause tummy troubles and disrupt your little one's sleep.
I also used a healthy cooking fat (duh) instead of nonstick spray. If you want to add a little heme iron to support brain development, you could even use whipped bone marrow as your fat.
And to get some cruciferous veggies fun into the mix, I added raw cauliflower florets.
The result?
Soft and incredible on the inside, crunchy on the outside. Both myself and my toddler are obsessed with these cauliflower potato tots cold and straight out of the fridge.
A lil' note about histamine: Histamine comes up a lot when I speak with parents about rashes and eczema. When working one-on-one with folks, one of the biggest challenges has been how to cook with low histamine foods and where to source low histamine recipes.
This recipe is low-histamine, just be sure to nix the ketchup.
And if histamines aren't a problem, shop at your local market for Primal Kitchen's unsweetened ketchup. It's my favorite for littles because it tastes amazing and there's absolutely zero sugar added.
Cauliflower potato tots recipe for baby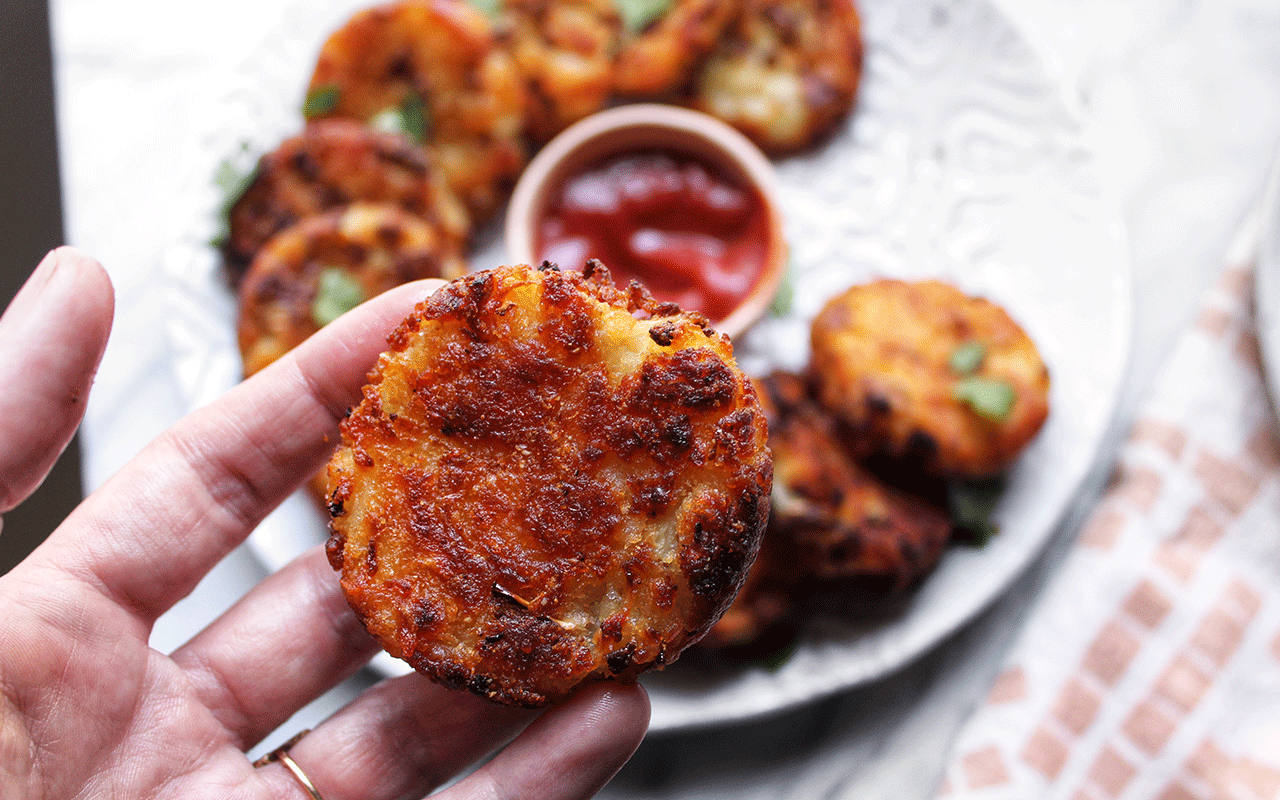 Ingredients
Instructions
Peel potatoes, checking to make sure there's no green beneath the skin. Do not use green potatoes, they will cause tummy troubles.
Fill Instant Pot or pressure cooker pot with 1/2 cup of water. Insert steamer rack and place potato halves on the rack. Press the Manual button and set on HIGH for 3 minutes.
Once done, quick release pressure by turning the valve. Pull steamer basket out and allow potatoes to cool.
Set oven to 400F.
While potatoes cool, remove florets from cauliflower and either tear them apart into small pieces, roughly chop them, or give them a quick pulse in your food processor. Set aside.
Pull out a box grater and use the large grating surface to grate the potatoes into a big bowl.
Add cauliflower pieces to grated potatoes and top with olive oil or FOC. Next, sprinkle with onion granules, garlic granules, cassava flour, and salt or dulse. Mix well with hands.
Generously oil your muffin tin, even if it's non-stick.
Scoop cauliflower-potato mixture into the muffin tin. Fill almost to the top and press down firmly so that you tots take shape.
Bake for 25-ish minutes. You want the bottom to be crispy, set, and golden. Pull them out of the oven and flip each tot.
Bake for another 15 minutes.
Remove tots from the oven and set on rack to cool. Start your next batch.
Makes 12 – 18 tots.
To freeze, immediately place on a lined baking sheet and pop them in the freezer for a couple of hours. Once frozen, store in a freezer safe bag (LOVE earth-friendly Stashers) and store for up to 3 months.
If you want to make a larger batch, I would use 5 large russets and one large head of cauliflower.
If you make the cauliflower potato tots recipe and share it on social, tag me!!