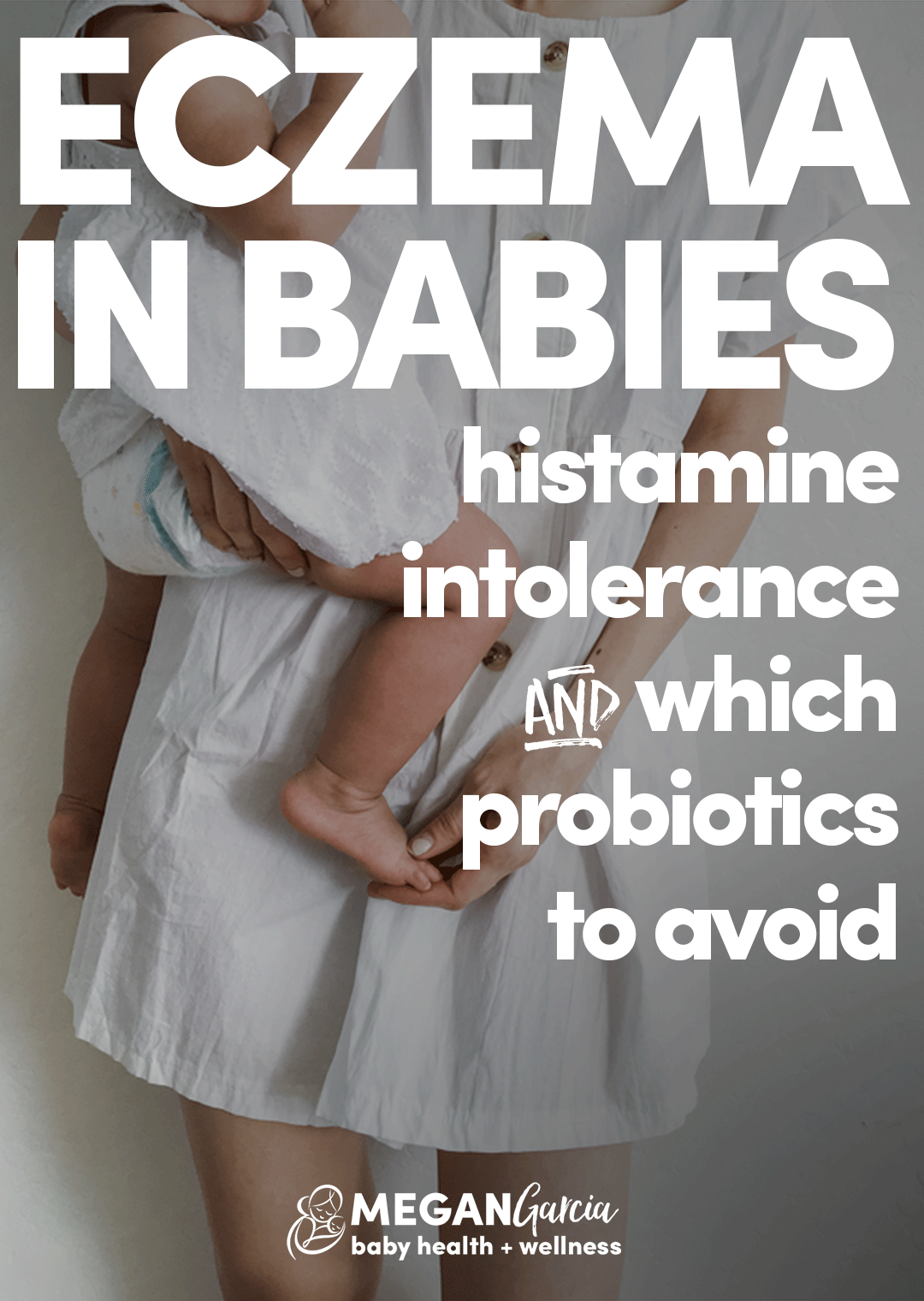 Eczema in babies can be tough to get rid of. It's frustrating when you think you're doing everything right – even avoiding allergens – and there are still lingering patches and occasional flare-ups.
As it turns out, foods that seem healthy- like berries, avocado, or sauerkraut – or even probiotics can make eczema worse.
What the what?
Blame histamine.
Histamine is one of those compounds that requires balance. Your body relies on histamine for digestion, wound healing, immune modulation, smooth muscle contractions (hello, uterus), and wakefulness in the sleep-wake cycle. But too much histamine, and you begin to see signs of histamine intolerance.
With histamine intolerance, your little one will be sensitive to any extra histamine found in high-histamine foods, high-histamine probiotics, or foods that "liberate" histamine. Ongoing, elevated levels of histamine can keep your baby's eczema active.
When it comes to eczema in babies, histamine intolerance is one piece of the puzzle that's often overlooked. Sometimes by simply managing histamine load, you can get rid of stubborn eczema and recurring rashes.
The scoop on histamine
Has this ever happened to you? Your little one eats strawberries or avocado and suddenly you see a rash develop. Little red bumps. Later, you might notice scaly patches on your baby's arm or cheeks.
Uh-oh. Is this an allergic reaction? Eczema? Candida? Or…is it histamine intolerance?
While it's impossible to rule out allergies without testing, there's a chance that what you're seeing is a food intolerance, rather than an allergic response.
In both cases – a food intolerance or allergies – histamine is responsible for those red flags: the redness, the bumps, the itchiness. Before we go any further:
Histamine is a biogenic amine that dilates blood vessels and makes vasculature more leaky so that immune cells can move in and out. It plays a central role in immune system response.
DAO (otherwise knowns as diamine oxidase) is an enzyme that breaks down histamine and it's mostly found in the gut, acting as a sort of barrier and protecting the body from excess histamine. Genetic variations in the DAO gene can limit enzyme activity. Also, allergies along with an inflamed gut or "leaky" will reduce DAO activity.
There are two places where excess histamine comes from: Inside the body and outside the body.
Inside the body, mast cells that are part of the immune system release histamine in response to things like stress or allergies. Outside the body, your little one can consume histamine through fermented or aged foods, foods that are naturally high in histamine such as avocado or spinach, and histamine liberators – like berries and citrus.
What does histamine intolerance look like?
Histamine intolerance falls into the category of a food intolerance. This means that allergy tests come back negative but your baby still shows signs of an allergic response when eating certain foods. These signs include:
Swelling or redness around the eyes
A runny nose
Vomiting
Hives
Itching
Flushed skin
Trouble sleeping
After histamine exposure (and when there's an intolerance), you might also see more rashes, itching, and eczema.
Histamine intolerance isn't an allergy. But because an allergic response always involves the release of histamine, the two look very similar.
One important difference to keep in mind is that with a food allergy, even tiny amounts of the trigger food will lead to symptoms. Whereas histamine intolerance is cumulative, often compared to a cup that can eventually overflow with histamine, leading to signs of histamine overload.
Some of the things that help to maintain histamine levels (not too little, not too much) are enough DAO – the enzyme the breaks down histamine – and plenty of gut microbes that help to metabolize histamine.
What causes histamine intolerance and eczema in babies
In my personal experience, I have found that babies tend to be extremely sensitive to extra histamine. In other words, their cup (see above) is often full.
Most little ones will also have a legit allergic response to a wide range of foods as they age and these allergies will resolve on their own by 12 months. It's important to remember that allergies – even temporary ones – can contribute to histamine intolerance.
In other words, your baby can have both food allergies and histamine intolerance, with food allergies contributing to overall histamine load and making symptoms worse.
Many first foods resources will tell you to avoid citrus, tomatoes, strawberries, and other berries because these foods are "acidic." But the reality is that they liberate histamine, triggering its release. And if your little one is sensitive to excess histamine, there may be signs of irritation.
This helps to explain why some babies can eat "acidic" foods with abandon, while others have a reaction.
When it comes to eczema, there's more than histamine at play. But histamine overload will add fuel to the fire. And in some cases, making an effort to reduce histamine load will help manage stubborn cases of eczema.
Why avoiding food isn't the answer
When you see the classic signs of a histamine intolerance, you may want to dramatically limit your little one's exposure to high-histamine foods while avoiding high-histamine probiotics. This is because reducing histamine load with low histamine foods with help to repair your baby's gut and those gut cells that make the histamine enzyme, DAO.
This is true for babies with histamine intolerance and food allergies.
More DAO = less histamine.
However, completely avoiding high-histamine foods or common allergens sets your baby up for food allergies later on. And it's usually NOT recommended that you do a full food allergen panel before 12 months because a full allergy panel can lead to overdiagnosis of food allergy. And you may end up avoiding foods unnecessarily.
If your little one has eczema or signs of food allergies, I've found that the best thing to do is navigate that fine line between low histamine load and allergen exposure.
Ultimately, you want an inclusive approach, rather than a restrictive one.
How I would manage baby's excess histamine
Enhance histamine degradation with a DAO boosting diet – liver, grass fed meat, salmon, olive oil.
Include probiotics that break down histamine. I use GutPro Infant.
Include a vitamin C supplement, like camu camu.
Include superfoods that support immune tolerance, like spirulina. And click here for one of my favorite spirulina recipes.
Limit high histamine foods.
And when offering baby allergens or high histamine foods, give tiny amounts. With time, you'll be able to slowly increase the frequency and quantity of these foods in your baby's diet.
Continue to watch for signs of too much histamine and adjust as needed.
Which probiotics can make eczema worse (and which make it better)
Aged and fermented foods are high in histamine. This is because many bacteria have a knack for creating histamine. And while this isn't true for all bacteria, you'll find that many probiotic strains will contribute to histamine overload. This includes:
The above strains are found in some popular infant probiotics. Like:
Klaire Labs Infant Powder
BioGaia Protectis
Gerber Soothe Colic Drops
If your baby has eczema or other signs of histamine intolerance, I recommend switching to a probiotic that encourages the break down of histamine. Fortunately, many strains of baby-friendly Bifidobacteria do just this.
Here are two probiotics that I recommend when managing high histamine:
Has reducing histamine helped manage your baby's eczema? Let me know in the comments!