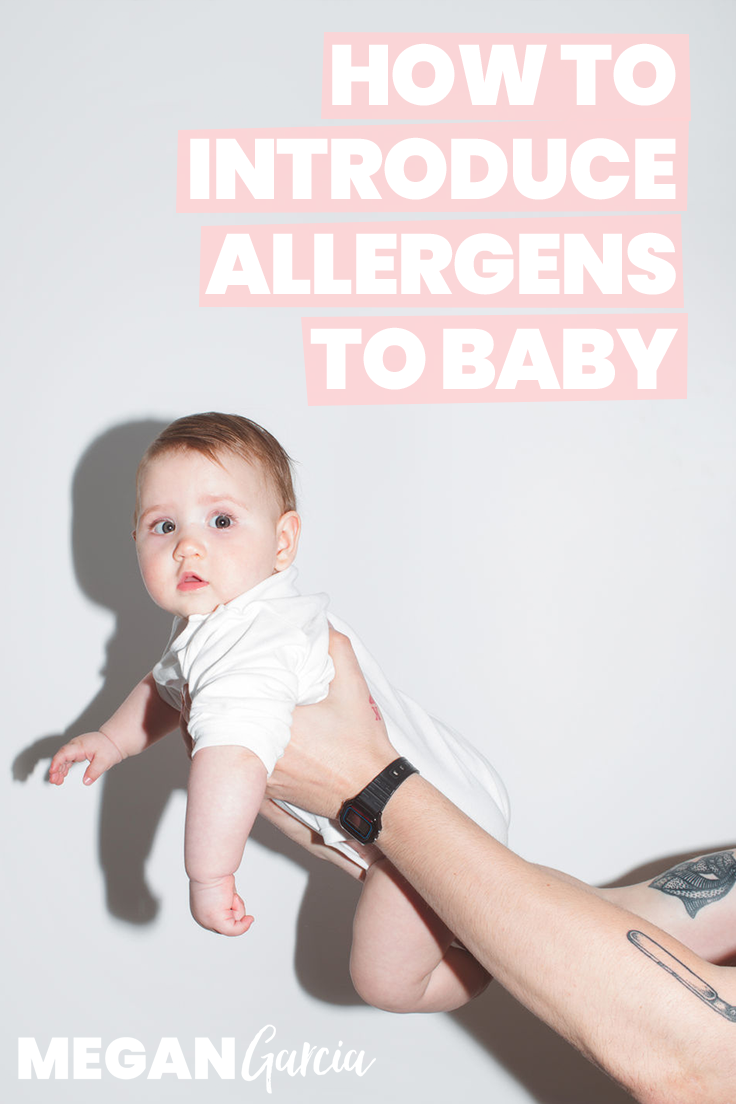 If you're wondering how to introduce allergens to your baby or if you need to delay the introduction of any allergens, below I share a step-by-step guide.
Introduce allergenic foods early
As many folks know, the current recommendation is to introduce allergenic foods when beginning solids.
This means that at around 6 months old, pediatricians are suggesting that you give your baby foods like peanut butter, nut butter made from tree nuts like almonds and cashews, eggs, and cow's milk.
A really important study published in 2015 called the LEAP trial showed that peanut allergies were more common in babies who avoided peanuts opposed to those who ate peanuts early on. This was even true for babies who were "sensitized" to peanuts – meaning they showed a positive skin prick test to peanuts. This study made a big impact on the recommendations around allergens because it was very large, with 640 little ones ages 4 – 11 months old.
In other words, it looks like exposure to allergens within the first year is a good thing. It educates baby's immune system and safeguards against an overreactive response to common foods.
New tips on introducing allergens
In 2017, the National Institute of Allergy and Infectious Diseases (NIAID) published some notes and protocols to add to the official 2010 "Guidelines for the diagnosis and management of food allergy in the United States."
The experts who put these recommendations together advise parents to introduce peanuts as early as 4 – 6 months (depending on baby's readiness) but after other solid foods have been introduced.
For babies with severe eczema or egg allergy, the recommendations for peanut introduction are the same. However, a blood test or skin prick test can help parents pinpoint a true negative result before the introduction of peanuts.
Generally, it's NOT recommended that you do a full food allergen panel because this can lead to overdiagnosis of food allergy or unnecessary food restrictions.
I have seen this first hand: Within the first year, many babies "grow out" of allergies that show up as eczema or mucus-filled and bloody stool.
And for little ones who have an allergic response to food triggers in breast milk, a prebiotic with beta-glucan can help to balance baby's immune signals.
How to introduce peanut butter to your baby
When introducing peanuts, the official amount to begin with is roughly half a tablespoon over the course of 3 feedings.
You could certainly do more. The idea is repeat exposure along with other foods once beginning solids. If you happen to start later than 6 months, no worries. The large LEAP trial saw that exposure beginning anywhere from 4 – 11 months old was associated with a lower risk of peanut allergy.
Also, it's worth noting that when mama eats peanuts while breastfeeding and introduces peanuts before 12 months, there's a lower risk of peanut allergy developing.
When introducing peanut butter:
Introduce peanuts only when baby is healthy. Avoid if baby is sick or showing signs of tummy troubles.
Introduce at home (not at daycare or restaurant).
Make sure you're available to give baby your full attention for at least 2 hours after you've introduced peanut butter.
Offer baby a small taste of peanut butter. Wait 10 minutes and watch for a response. If there isn't one, slowly offer the remainder of the peanut butter.
Start with 2 teaspoons of peanut butter. You can thin it with equal parts (2 teaspoons) of water, ghee, coconut oil, or pureed baby food.
Signs of a mild allergic response:
A new rash
Hives around the mouth or face
Signs of a severe allergic response:
Lip swelling
Vomiting
Hives or welts all over the body
Face or tongue swelling
Trouble breathing
Wheezing
Coughing
Change in skin color to pale blue
Sudden tiredness
What about other allergens?
So now we know: If you want to reduce your little one's risk of peanut allergy, eat peanuts while breastfeeding and make sure you introduce peanuts sometime between 6 – 11 months.
But what about other common allergens?
It's thought that the rules for avoiding peanut allergy are the same for other allergenic foods.
For example, if you delay the introduction of eggs or cow's milk past 12 months, there's a greater likelihood that your little one will develop an allergy to these foods.
What this means is that exposure is good. And while you don't want to go overboard on some foods that block iron absorption – like cow's milk, nuts, and even eggs – it's a very good idea to make these foods a regular part of mealtime.
Did you introduce common allergens to your little one before 12 months? Tell me about it in the comments!