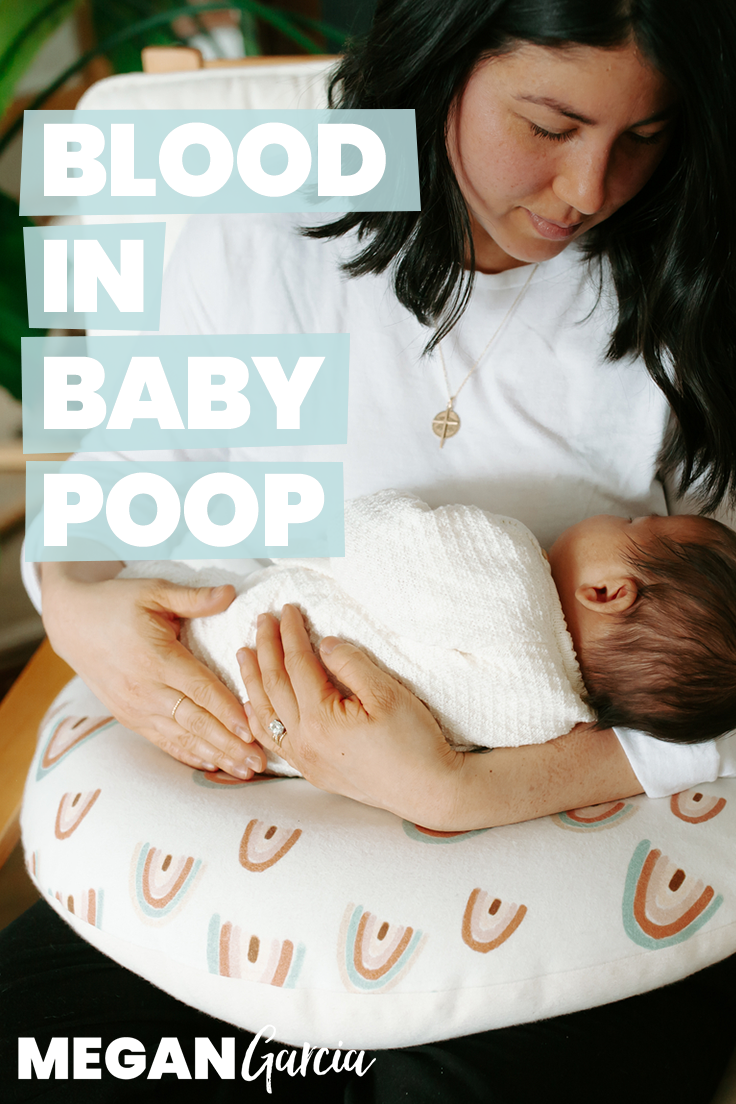 Blood in baby poop. And mucusy stools. It's a little unnerving, isn't it? If your baby is breastfed, you might wonder where it's coming from. After all, doesn't breast milk protect against allergies and support baby digestion?
Blood in baby poop before the age of 6 months has a name: allergic proctocolitis.
There are a few things about blood in baby poop – or proctocolitis – that make it different from other problems with baby digestion:
It shows up before baby reaches 6 months
It's most common in exclusively breastfed babies
Other than bloody stool, baby is healthy
Stools are soft – not hard
Stools tend to look frothy and filled with mucus
Eczema may also be a problem
Symptoms improve with an elimination diet
Skin prick or IgE tests are negative
While you may see other problems like gas or pain – generally soft, blood-streaked stool is the only sign there's something going on. But, when a mama sees blood in her baby's stool, that's enough to stir up some panic.
Rest easy – blood in baby poop isn't as bad as it looks
While you definitely want to make changes if you see blood in baby poop, it's important to understand that as long as your baby is healthy and thriving, the overall outlook is good.
Most babies will end up tolerating the offending food by the time they're 12 – 24 months old.
By 1 year old, your baby will most likely be able to eat a "normal" diet. For those babies whose symptoms persist beyond 2 years, the problem food is likely dairy.
How to do an elimination diet while breastfeeding
Blood in baby poop – especially in exclusively breastfed babies – has to do with an immune response to dairy proteins in breast milk. Bloody stool can show up as early as baby's first week – which means that the sensitivity began while you were pregnant.
Besides cow dairy, there are other foods that tend to trigger a reaction. These are the foods that you want to remove from your own diet when tracking down which food has made its way into your breast and triggered a response.
Cow milk
Egg
Corn
Soy
Wheat
Rice
Chicken
Shellfish
Potato
When doing an elimination diet, follow these steps:
Remove one food group from your diet. This includes all foods and supplements made with that food. Begin with cow milk.
Wait 2 – 4 weeks.
If you've identified the problem food, you will see an improvement in 3 – 4 days.
If you see no improvement, add the food back into your diet and remove another food group.
You may also want to focus on hypoallergenic foods – like lamb – when doing an elimination diet and when introducing solids to your baby at around 6 months.
Also, there's some evidence that when you take pancreatic enzymes with food, this can help break down offending food proteins – before they move into mama's breast milk.
I like these digestive enzymes from Smidge.
Probiotics for baby may also help.
Be sure to shop for a probiotic that's free of fillers, pre-biotics (food for microbes), and allergens. For baby, I use Smidge Infant Probiotic.
Prebiotics, especially one with beta-glucans, can support baby's immune tolerance. I use this prebiotic for baby.
Take care of your own health
While breastfeeding and doing an elimination diet, it's absolutely essential to make sure you're getting adequate nutrition. This means that you:
Eat plenty of nutrient-rich, homemade (or made-for-you) food.
Take a prenatal, more about that here.
Get enough long-chain omega-3s. I use this salmon oil.
Use the elimination diet above to figure out which foods are not okay and which foods are – so that you feel like you can eat again!
Have you had to do an elimination diet to help your baby? Let me know in the comments!