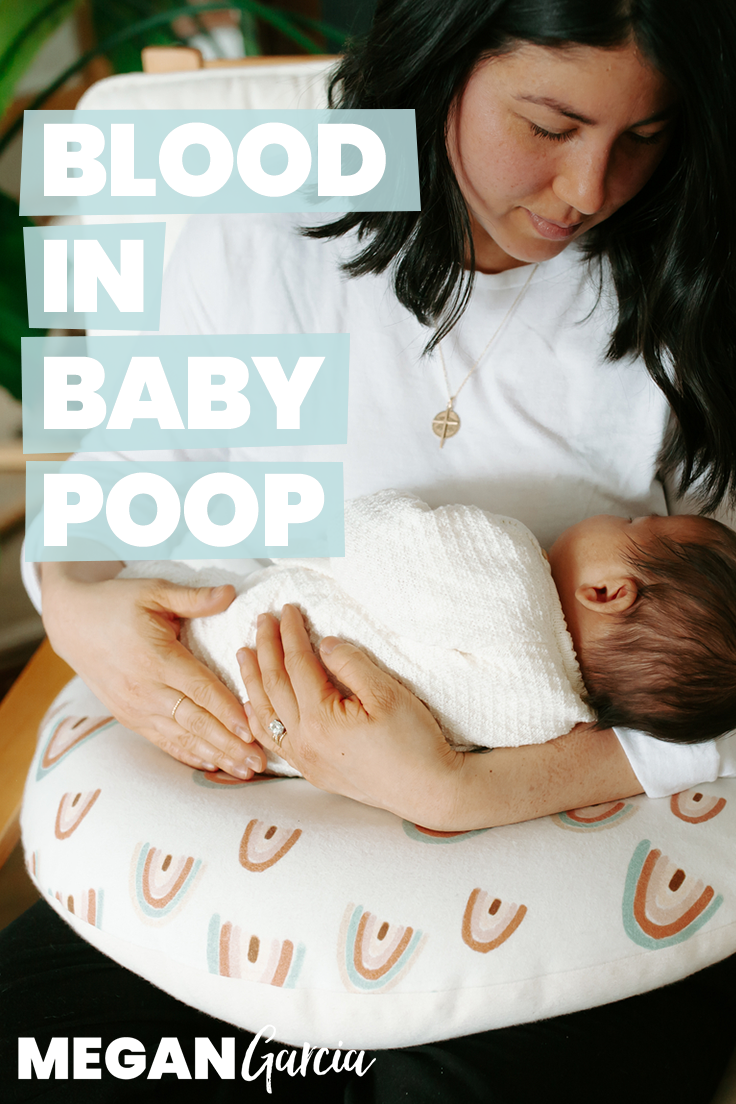 Blood in baby poop. Mucus in baby poop. What does it all mean? If your baby is breastfed, you may be scratching your head…
Isn't breast milk supposed to protect against allergies? And do good things for baby digestion?
In short, YES. In addition to macro nutrients and micro nutrients, breast milk contains:
Cytokines, which help modulate the immune system

HMOs, a prebiotic that feeds good gut bacteria, binds to harmful gut bugs, enhances the gut barrier, and supports the production of SCFAs (short chain fatty acids, important for baby immune health)

Immunoglobulins, which support baby immune development and – like HMOs can bind to harmful gut bacteria while also feeding good bacteria

And good, probiotic bacteria
And also…
Breast milk (and some formulas) can contain common allergens. And these common allergens can trigger tummy troubles.
👉 Blood in baby poop can indicate a condition called FPIES, or food protein induced enterocolitis syndrome. And if we want to get even more granular, blood in baby poop is most often a symptom of chronic FPIES.
A list of FPIES symptoms
Just as our understanding of FPIES has evolved over time, how we define FPIES symptoms has also evolved.
Currently, FPIES is defined as a non IgE food allergy. And there are delayed symptoms after a trigger food is ingested.
Acute FPIES symptoms include:
Profuse and repetitive vomiting 1 – 4 hours after consuming a trigger food

Pallor, or pale face

Lethargy, or increased sleepiness

Diarrhea

Resolution within a few hours

Shows up in older babies, around the time solids are introduced
Chronic FPIES symptoms include:
Intermittent vomiting

Baby poop that looks like diarrhea

Mucus or blood in baby poop

Fussiness

Shows up during early infancy
Sometimes FPIES shows up with IgE sensitization. And this is called atypical FPIES. It's been estimated that atypical FPIES makes up 5% – 25% of cases. And it's thought to be more common for cow's milk and egg.
Diagnosis of blood in baby poop and FPIES
Watery baby poop with blood, mucus, or both is a sign of chronic FPIES…
What is chronic FPIES? See the list above.
While acute FPIES shows up when beginning solid food and in older kids, chronic FPIES is thought to exclusively affect babies in early infancy. In other words, chronic FPIES symptoms begin within the first few months of life.
And it's estimated that 99% of chronic FPIES is in response to cow milk or soy formula. Buuuut I've worked with enough parents who breastfeed to know that blood in breastfed baby's poop is more common than it sounds.
As far as diagnosis goes, if it's not visible, you can measure occult blood in a baby's stool.
Otherwise, there are currently no lab tests or imaging tests to confirm a FPIES diagnosis. A positive oral food challenge can give confirmation, but it's not necessary.
Common FPIES food triggers
At first, like way back when in the 1970s, FPIES was observed in response to milk or soy formula. Then, in the 1990s, there were reports of cases triggered by solids, such as:
Rice

Chicken

Green peas

Oats
👉 And now, we understand that almost any food can be an FPIES trigger.
Location and cultural food trends matter too. For example, cow milk reaction is pretty common worldwide. But…
The US and Australia sees more response to oat, rice, and egg,

Europe reports seafood and egg as common triggers.

Japan says eggs are an emerging trigger.
And other countries have identified grains along with bananas, sweet potatoes, and white potatoes.
65% – 80% of littles have FPIES to a single trigger. Also… FPIES to cow milk or soy early in life can mean an increased risk of response to solid foods. And reactivity to one solid food can mean a greater likelihood of response to other foods. Especially grains.
How to manage acute FPIES symptoms with baked cow's milk
In the first months of life, avoidance of cow milk and soy – either through breast milk transfer or through formula – usually helps to resolve chronic FPIES symptoms.
Afterall, cow milk and soy are the most common triggers of early, chronic FPIES.
When beginning solids, cow milk can also trigger acute FPIES symptoms. Along with egg, cow's milk is one of the most common food triggers, regardless of location or cultural food trends.
But why baked milk?
Remember: Unless it's atypical, FPIES is non-IgE mediated.
When we think of food allergy, we're usually thinking of a type of response to common allergens that is IgE mediated.
Which means we see a quick response and symptoms like hives or even anaphylaxis, which is a whole body reaction that requires immediate attention. Skin prick test and blood test can be used to diagnose IgE allergy.
In order to navigate IgE milk allergy, we generally want to start with baked milk. Since baked milk is often well tolerated. And baked milk can even speed up the resolution of IgE milk allergy.
🤔 But is baked milk also a good starting point for non-IgE allergy, like FPIES?
Well, a small study with babies 6 – 24 months old looked into this. Researchers found that babies with milk FPIES may have a good tolerance to baked milk. Because this was the first study of its kind, more work definitely needs to be done.
And also, it suggests that…
Baked milk in toddlers with milk FPIES is safe and well tolerated

Kids older than 12 months old were more likely to do well with baked milk
As the immune system matures, toddlers are able to tolerate baked milk protein first
Take care of your own health when managing blood in baby poop and chronic FPIES
Chronic FPIES is often best handled by removing the trigger food. Remember, we don't want this to be a forever thing.
This can mean switching formulas. Or, when breastfeeding, doing an elimination diet.
☯️ Traditional Chinese herbal medicine can also offer relief. Click here to schedule a call.
When doing an elimination diet, be sure to work in small steps. The most likely triggers are cow's milk and soy. So, start there. And make sure you're getting adequate nutrition. This means:
Have you noticed baby FPIES symptoms? Let me know in the comments 💛