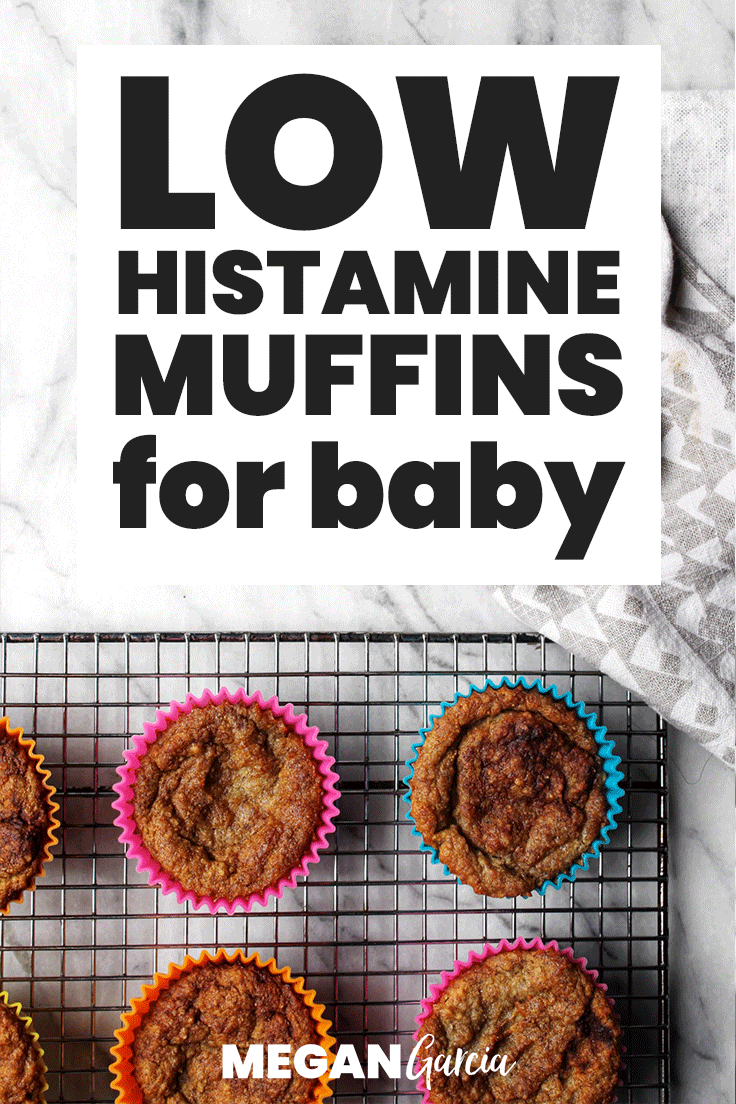 Histamine can be an issue for many babies who struggle with eczema. So the challenge for parents of babes with eczema or itchiness is to find foods and recipes that work for baby.
Muffins are fabulous because they store well, freeze well, and can be eaten on-the-go.
These muffins are low histamine and allergen free, which means that they're egg-free, dairy-free, gluten-free, and nut-free. Whew! But not every baby with eczema needs to avoid allergens.
If your little one is under 12 months old and has mild eczema, exposure to allergens may still be a good idea. The best way to work allergens into baby's diet is in very small portions. Likewise, it's been found that baked dairy and baked eggs are sometimes better tolerated.
If that's your jam, go ahead and switch out the flax eggs for chicken eggs from pasture-raised hens. And use dairy instead of water.
Make your own applesauce and toss in some baby kale
For this recipe, it's incredibly easy to make your own apple sauce: Place eight cored, peeled, and chopped apples into an Instant Pot with 1/2 cup of water. Set on Manual High for 8 minutes and once time it up, turn the valve to quickly release pressure.
Golden Delicious apples can sometimes be easiest for babies with food sensitivities.
If you want to add greens to these muffins, I would stick with baby kale.
While spinach is the usual go-to for babies, it's particularly high in oxalates, an anti-nutrient that blocks the absorption of non-heme iron and calcium. Sorta defeats the purpose of eating spinach to boost iron intake, doesn't it?
And y'all have heard me say it before! Iron-rich food supports baby brain development.
Low histamine muffin recipe for baby
Ingredients
1 cup tigernut flour
1/2 cup quinoa flakes
1 cup of applesauce⠀
3 flax eggs, see how to make them below⠀
1/3 cup olive oil
1/2 lemon, juiced
1 teaspoon vanilla extract
1 teaspoon baking soda
1/4 teaspoon ground ginger
1/4 teaspoon ground cardamom
Instructions
Prep your flax eggs by mixing 3 tablespoons of ground flax seeds with 9 tablespoons of water in a small bowl. Allow to thicken for 20 minutes. You can also make them the night before and store in your fridge.⠀
Preheat the oven to 350F. Line tin with muffin liners.
In a large bowl, combine tigernut flour, quinoa flakes, spices, and baking soda. Break apart any lumps with your hands.
Use a whisk to whip together apple sauce, olive oil, vanilla, and lemon juice.
Once ready, add apple sauce mixture and flax eggs to the tigernut flour and quinoa flakes. Mix well.
Spoon equal portions into the muffin tin.
Bake for 30 minutes, or until golden on top and firm to the touch.
Makes 9 muffins.
Do you have a low histamine muffin recipe for baby? I would love to hear about it!