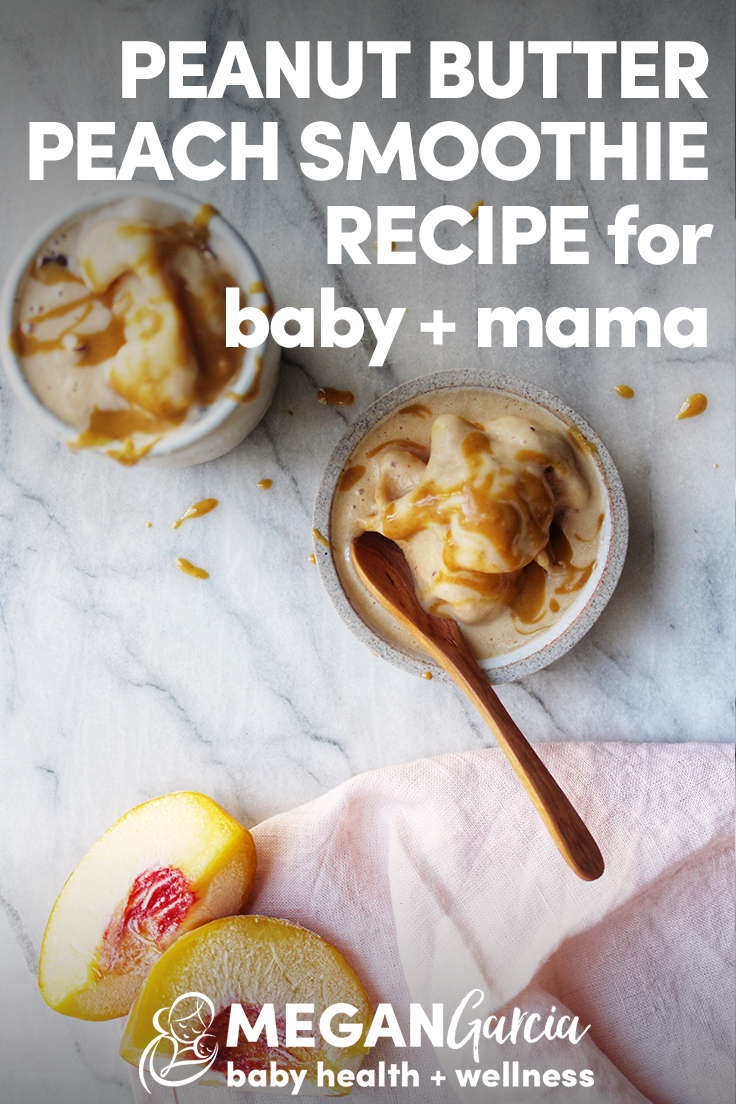 It's mid-August. Which means peaches are still in season. And you have every reason to whip up this peanut butter peach smoothie recipe for baby and mama.
Who's with me?
But first, a little bit about freezing peaches. Plus, some notes on introducing allergens to baby, since both peanut butter and peaches are allergens.
Protip: Head to your local farmer's market and bring home a massive peach haul
Do you love buying uber pricey frozen fruit wrapped in plastic?
Me neither.
Besides the cost, I've been doing what I can to reduce how much plastic I use. And it feels almost painful to run through small plastic bags of frozen fruit week after week. Especially during the summer months, when we make smoothies every day.
The solution: Make yer own.
At the farmer's market, you can shop with cotton bags (we use these, the mix of mesh and solid cotton comes in handy) and then head home to do your own freezing.
Don't worry, it's easier than it sounds.
Start by shopping for peaches. And other fruit that you want to freeze.
I usually include bananas because they help to thicken up smoothies and you can make your smoothie more or less sweet, depending on how ripe your bananas are.
If you're lucky enough to find red-fleshed peaches – or blood peaches – grab 'em. They're pretty high in anthocyanins, a plant pigment that's a powerful antioxidant and feeds good gut bacteria.
Once you have your peaches, begin quartering them and removing the pit.
Lay them out on a parchment lined baking sheet and place the entire baking sheet in the freezer. Then, once frozen, move them into airtight storage (I love the large Stasher silicone bag for this) and use in smoothies every. single. day.
Because they blend up soft, thick, and easy.
Peanut butter and peaches are allergens
Yes, peaches are an allergen too.
But this doesn't mean that you need to avoid giving them to your baby. Quite the opposite. It's ideal if you expose your baby to allergens via food and breast milk well before 12 months.
While giving your baby allergens can be a little scary, I break the steps down here.
In short, go slow and offer tiny amounts while watching for a response. You want to introduce allergens when your little one is healthy and when you have a couple hours to watch baby.
And introduce each individual allergen on its own, making sure solids are well established and tolerated, before giving this combo to your little one.
Recipe notes
No dairy? This smoothie tastes best with dairy. But if you want to skip the dairy, just use water.
I'm not in love with boxed or canned milk alternatives. And as it turns out, you can easily make your own alt milk by blending a little nut butter with water. This works for hot teas too.
So by using just peanut butter and water, you're making peanut butter mylk. Neat, right?
Ginger, always ginger. Because smoothies are cold. And very cold things can be hard on tiny tummies.
By adding ground ginger (not fresh!) you warm up the smoothie and your baby's digestion.
Peanut butter peach smoothie recipe for baby and mama
Ingredients
1 cup of frozen peach slices
1/2 frozen banana
1 – 2 tablespoons organic peanut butter
1 cup raw goat milk
1/2 teaspoon camu camu powder
1/4 teaspoon dried ginger powder
1 pinky-sized strip of dulse leaf for trace minerals
1/8 teaspoon vanilla bean powder
Instructions
Put everything in a large wide mouth mason jar and blend with an immersion blender. Or, put it in a high-speed blender and blend.
If you want a thinner smoothie, add more goat milk.
Spoon into a squeezie pouch or your favorite cup for baby and spoon the rest into a cup for yourself.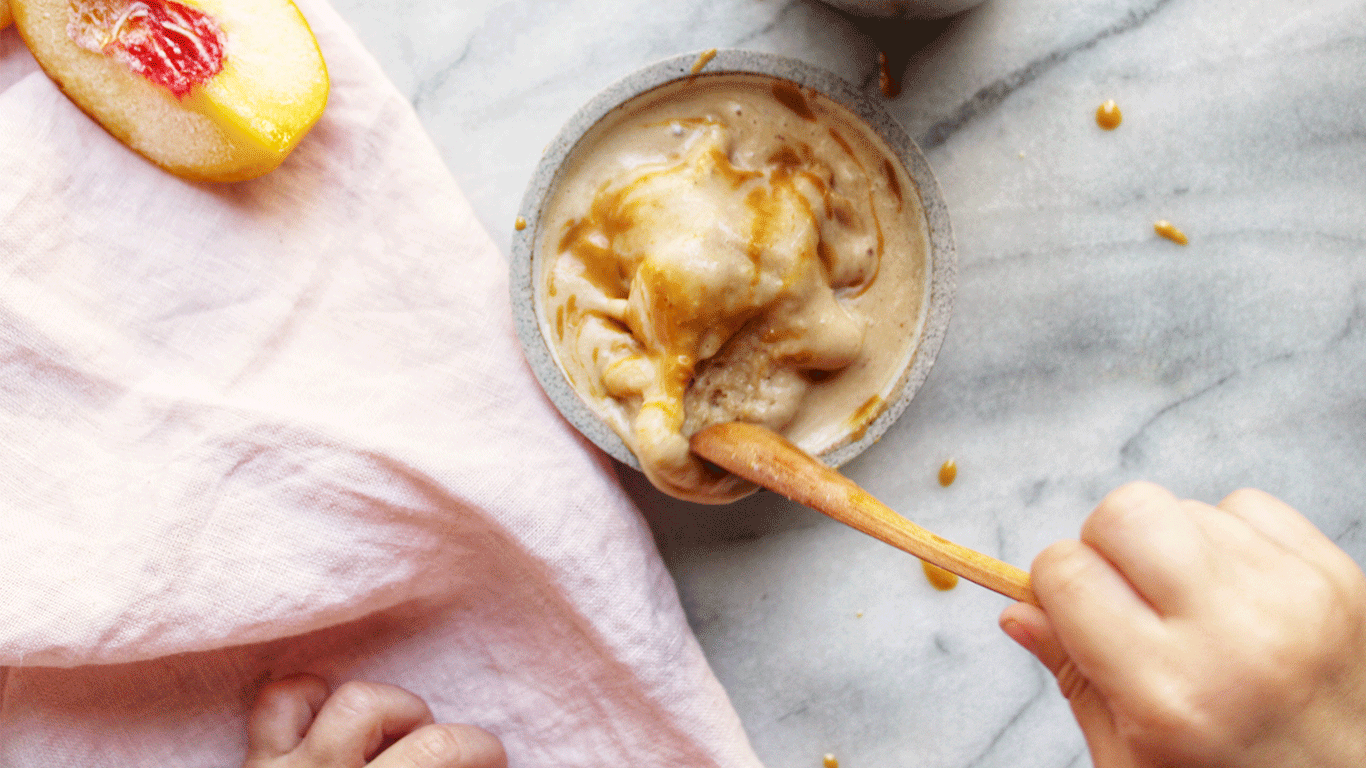 Got a favorite smoothie recipe for baby? Share it in the comments!