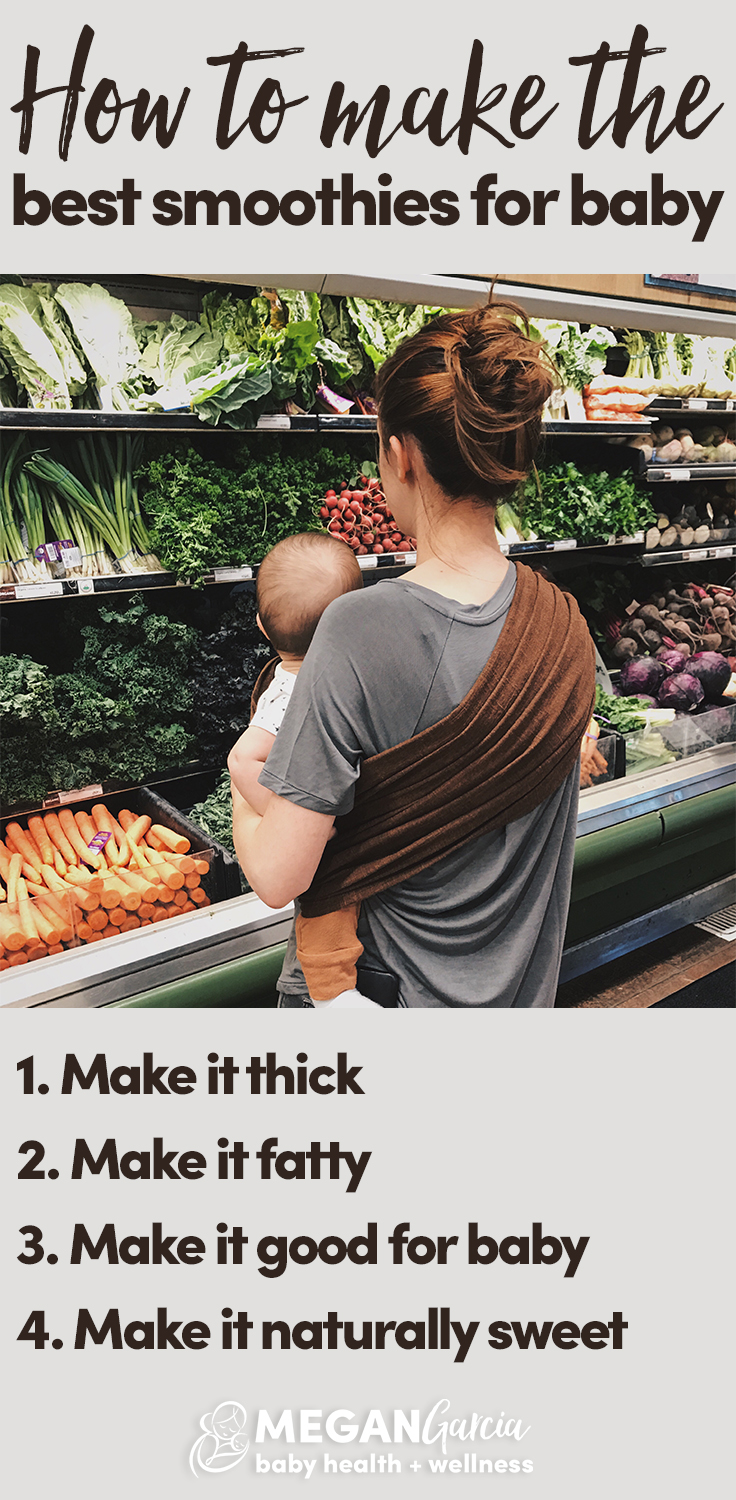 If there's anything I want you to take away, it's this: The BEST smoothie recipe always includes warming spices. Like dried ginger and cardamom. Especially when it's for little ones.
These spices support digestion and bring balance to smoothies.
But of course, there's more to it than that. As it turns out, you can pack a lot of goodness into one blended drink.
Over the years, I've developed a sort of mental checklist that keeps smoothies thick, delicious, and good for little ones too.
Sort of like a formula.
And that's what I'm sharing with you today.
So good, you won't want to share it with your kid
Before I share my secret formula for smoothies, I want to underscore the value of animal based foods in a little one's diet, particularly from 6 – 24 months.
While smoothies can be fun and nutritious, they shouldn't replace the basics – like liver, meat, bone marrow, eggs, and other nutrient rich fats.
The nutrients in animal based foods go far in supporting development. What's more, animal based superfoods are especially important for tiny tummies and (sometimes) nonexistent appetites.
If you *need* a smoothie to enrich your toddler's diet because of picky eating habits, then you want to make sure that you include plenty of brain-building, gut-soothing nutrition.
With that in mind, here's my smoothie formula + plus notes for little ones. When making smoothies, consider making enough for two. Because it's fun to share 😉.
1. Make it thick
In my opinion, the best smoothies are so thick you scoop a little bit out with your spoon and take a bite. They stand tall and hold their shape.
And there's one trick to getting an uber thick smoothie – use only a little bit of liquid with your frozen base.
Usually, this is the first thing you want to add to your blender. If you add your fat or supplements first, they may get stuck at the bottom of the blender jar. Which means they're left behind.
So, start first with a frozen base. Before anything else.
Now that you know you only need to add a little bit of liquid for the thickest of smoothies (add more to thin your smoothie), it's time to pick your base.
Frozen fruit – like mango, strawberries, cherries, banana, or acai. Usually, this is my first choice. The benefits of frozen fruit are fiber, antioxidants, and natural sweetness.
Steamed, frozen veggies – like cauliflower, spinach, or zucchini. If you want to work more veggies into your little one's diet, this can work.
Cauliflower is part of the cruciferous family, which means it's insanely good for you. If you're working on building up your toddler's iron levels, proceed with caution when using spinach since it contains high levels of oxalates, which bind to minerals like iron.
Note: Chances are, you'll need to sweeten the deal before offering to your babe.
Ice. This works especially well if you're using lots of superfood powders. It's like a blank canvas and you can really create any flavor profile you want. For wee ones, this isn't my favorite because you really want to layer as much nutrition as you can in each bite.
Collagen. In my experience, collagen makes a smoothie extra fluffy. This is true whether or not it's frozen. For warm drinks, the addition of collagen to your blender will help give that delicious foam cap.
Collagen is more for mama than it is for baby.
In general, babies don't need a lot of excess protein, so I like to limit collagen use to smoothies and use a 1/2 serving size.
This is the collagen I use at home. Note for sensitive mamas + babes: it does contain trace amounts of allergens.
2. Make it fatty
Usually when smoothies fail, it's because they don't have enough creaminess. Body. Ooomph. Luscious yumminess. Fat really holds a smoothie together and unites all the elements so that they make sense to your taste buds.
Without enough fat, your smoothie may taste grainy, watery, or fall flat on the palate.
I'm also not in love with prepackaged almond milk or pea protein milk that you might pick up at the market.
Why?
Because these tend to have a lot of additives that that body doesn't need or understand…like vitamin D2 or guar gum.
If you can, make your own plant "milk" on the fly by adding lots of fat (options below) to water.
Or shop for the plant based milks that I mention here.
Almond butter, tahini, or peanut butter. Usually, a couple of tablespoons will do ya. Each nut, seed, or legume butter will contribute to the overall smoothie experience. Almond butter is nutty and cashew butter tends to be the most neutral, in my opinion. Shop for organic.
Avocado. A good source of vitamin C, vitamin K1, carotenoids, and of course healthy fat.
Avocado gives smoothies a whole lotta body and almost pudding-like thickness. It's also a good source of fiber, so you may see an uptick in gassiness if sharing with baby.
Raw cream or raw dairy. Always shop for dairy from animals that spend time outdoors and feed on pasture. Raw dairy (cow, goat, or camel) is typically easier on your babe's digestion and daily bowel movement.
The big cautions with dairy are an intolerance to dairy protein or iron deficiency if baby consumes dairy all of the time – and little else.
3. Make it good for you (and baby)
Dried ginger. Your frozen smoothie is cold. Which can be a problem for developing little ones or anyone with digestive troubles. Because of this, I recommend adding in a pinch – about 1/4 teaspoon – of dried ginger.
You want to make sure the ginger you use it dried – not raw, straight from the root. Dried ginger goes right to digestion and supports it – whereas raw ginger is more supportive of the immune system.
As a rule, I ALWAYS like to add 1/2 a teaspoon of dried ginger to my kiddos' smoothie.
Probiotics. A smoothie is a wonderful place to put probiotics. If you're sharing with your babe, double the dose. Click here for a couple of my favorites.
Prebiotics. If you want to give your little one's gut and immune system a lil extra care, you can add a prebiotic like Seeking Health Probiota Immune along with some high quality probiotics.
Fish oil. Whether you want to use salmon oil for all those good long-chain omega 3s or cod liver oil for some extra vitamin A and D, fish oil tends to blend up nicely without a hint of fishiness.
Whole food vitamin C. Vitamin C supports the use of non heme iron and it's an important antioxidant. It helps with the production of your "love hormone," oxytocin. And with collagen, it's also awesome for postpartum repair.
Pure Synergy makes my favorite vitamin C. Be sure to get the powder, it's easier to use.
Dulse. Back when I was making smoothie like a profesh, I found that a little salt help to offset the sweetness and enhance the overall flavors.
For babies, I don't go wild with salt. Not even a little bit (in spite claims that salt is good for babies).
Instead of salt, I like to use dulse flakes. Dulse is an excellent source of trace minerals, including iodine that supports baby brain development. And dulse also gets seaweed into baby's diet.
Liver pills. Not having much success with offering liver to baby? Add desiccated liver to your smoothie. I'm my experience, liver works best with smoothies that are a little more robust – like one with an acai base or one that uses peanut butter.
ALSO, keep in mind that when offering new foods to baby (like liver) you may need to try several times before its accepted. But trust, it's worth the effort!
There are a lot of great brands out there and you may even be able to find someone in your area who makes liver pills. Lately I've really been into Ancestral Supplements beef liver.
They also make bone marrow capsules.
4. Make it naturally sweet
I feel the life purpose of a smoothie is to make you healthier in a way that's super snazzy and fun…rather than blast you with a bunch of sugar.
That said, a little natural sweetness makes it work and takes it from interesting to the best thing ever.
Frozen bananas. Frozen bananas can add body and heft. They're also sweet. If you get the ones with a hint of green in the skin, you'll see more resistant starch in your smoothie. This starch isn't readily broken down and tends to food the good bacteria living in your large intestine.
Dates. While sweet, dates are a good source of trace minerals – especially potassium.
Raw honey. Unfiltered and unprocessed, raw honey is full of microbes and minerals. Because of this, raw honey isn't recommended for babes under 12 months. But for toddlers, it's a source of antioxidants and can even help improve sleep in little ones with a cough.
Stevia, not so much. For myself, I currently use stevia a few times a week. I have some on-going low grade infections that flare up every so often and rather than consume sugar when I want something sweet, I would rather use this organic stevia powder from sweet leaf, which is made with inulin, a prebiotic.
BUT there's a chance that stevia may interfere with hormones. Which means it may not be good for mama (depending on her unique health goals) and it's definitely not ideal for baby.
You see, stevia does good things for folks with diabetes. It helps to control blood sugar. And while there's no evidence that it's dangerous or that it can lead to low blood sugar (aka hypoglycemia) – I feel cautious about using it with little ones because there's so much "programming" going on.
Stevia has a steroidal structure, which means it looks like a hormone. And it also acts like a hormone, raising progesterone (the precursor to other sex hormones, like estrogen and testosterone).
The verdict: There's still a lot of mystery around stevia and it's best to leave it out of your baby's smoothie.
What does your favorite smoothie recipe look like? Share in the comments!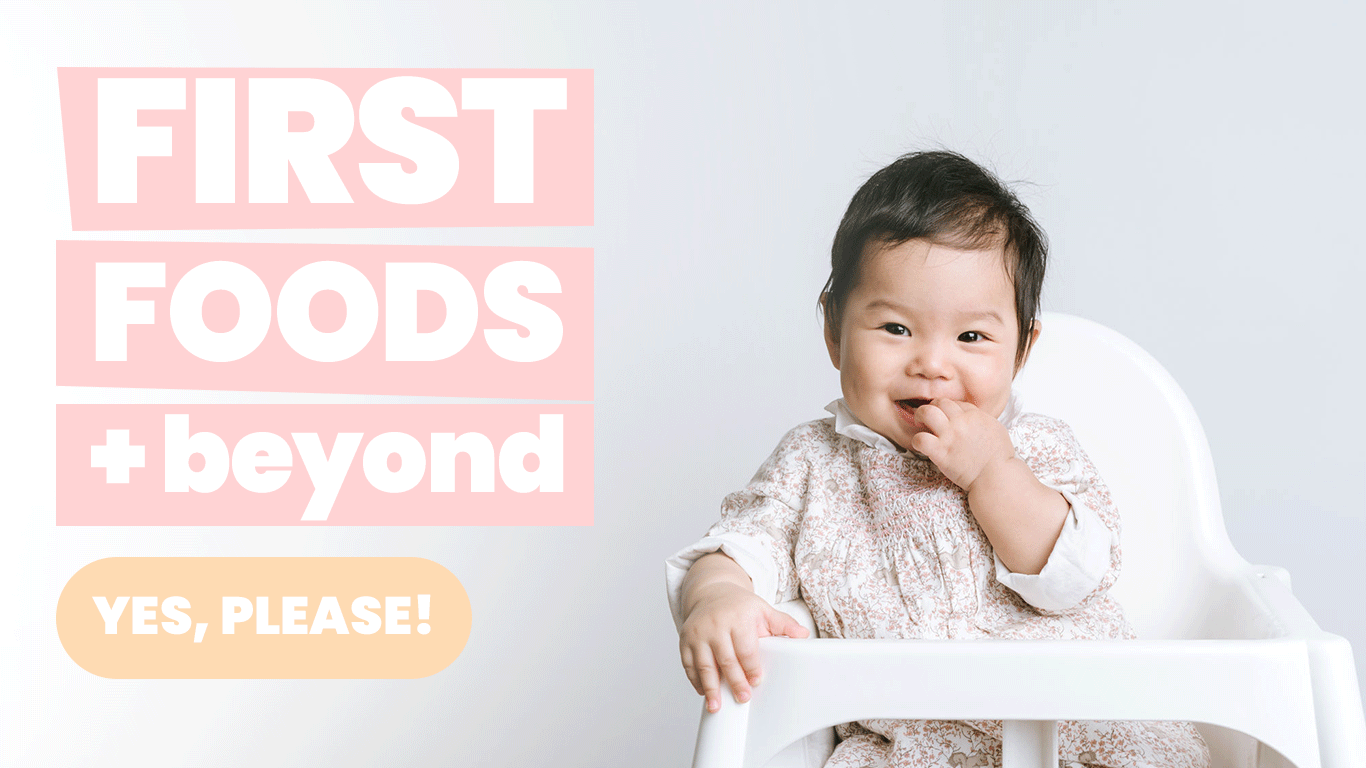 SaveSave
SaveSaveSaveSave