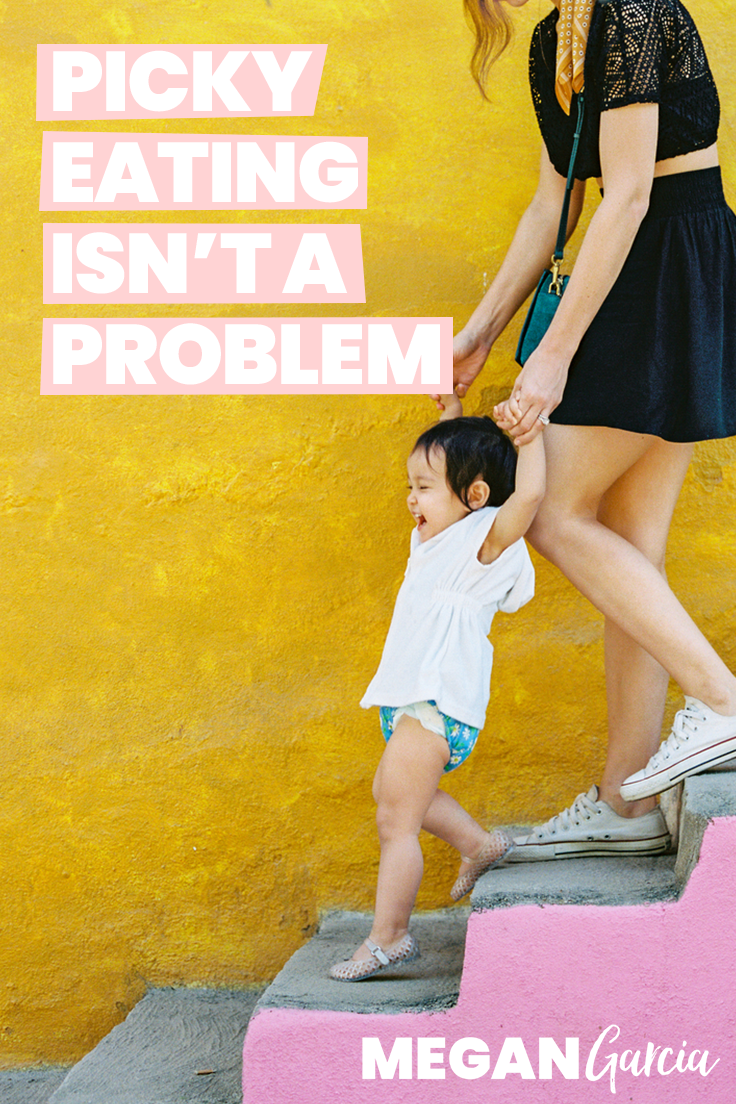 If you have a little one between 18 months and three years old, you've probably experienced some level of picky eating.
Trust, you are not alone.
By some reports, up to 50% of parents feel their little ones are "picky eaters." My own experience with parents is that this percentage is higher.
If you too have a picky eater, it may comfort you to know that toddlers and preschoolers only grow about five and a half pounds per year. This is in contrast to infancy and up to the age of 24 months when their weight quadruples each year.
In other words, you might notice a drop in appetite (and energy needs) as weight gain slows. This is normal.
In this blog post, I will share what's going on when your toddler refuses food, red flags indicating when selective eating may be a problem, plus some tips to expand your little one's diet.
What's really going on when your kid refuses to eat
According to Dr. Kay Toomey, who developed the SOS Approach to Feeding (or Sequential Oral Sensory approach), before your toddler even TASTES foods, they must first be able to:
Tolerate it in the room
Interact with it
Smell it
Touch it
Systematically going through these stages (there are officially 32 steps) and watching where food refusal starts is one way to expand what your child eats without anxiety or battles at the dinner table.
A key piece of the SOS approach is play without any pressure to actually eat.
Zero pressure = means no positive reinforcement in the form of extra attention and encouragement to eat. It also means no negative reinforcement in the form of shaming or punishment.
A mealtime free of pressure matters because according to Erik Erikson, between the age of 18 months – 3 years old, little ones develop a "do it myself" attitude and feel proud when they exercise independence. However, alongside this, emotions like shame and doubt can also develop.
The pressure to eat, whether positive or negative, takes away your toddler's sense of agency.
What's more, you're likely to get some push-back.
Instead, you can provide the structure of set mealtimes. This might include help with food prep, pulling out snacks, or a mealtime routine. The bonus here: Getting your toddler's help also works in the touching and smelling of food.
Then when it's time to eat, reinforce independence by encouraging your toddler to self feed. Also allow them to also explore, play with, and (YES) reject food.
Special red flags when feeding a picky eater
Sometimes picky eating can point to a deeper issue that needs to be addressed along with the acceptance of new foods.*
Red flags to look out for:
Hyper and hypo sensitive: If food texture is a problem or if there's a lot of gagging, coughing, or meltdowns, you may be dealing with a sensory issue. There are tools that can both decrease sensitivity or for chewers, give the oral feedback they're looking for. This article by Debra Lowsky share's some excellent tools and tips.
Poor oral motor skills: If you notice "wet" breathing, lengthy feedings, food falling out of the mouth or getting stuck in the lower cheek pockets, this may mean that your little one is having trouble with chewing or moving food around in the mouth. Chewing is hard work!
Failure to thrive: Poor weight gain or failure to thrive can mean that you may want to work with a dietician to make sure your little one is getting all the nutrients that baby needs. In some cases, Chinese herbs can bolster baby's appetite.
History of reflux, allergies, or oral procedures: Little ones who have had a rocky start – anything from feeding tubes to reflux and vomiting – may have a fear of eating. And later on in toddlerhood, this fear can show up as picky eating behavior.
If you suspect a sensory issue, the need to beef up your little one's oral motor skills, or a genuine fear of eating, I highly recommend working with a therapist who can give you and your toddler the support that you need.
Likewise, if you're not seeing any red flags but still struggle to get your toddler to eat family foods, the following tips may help to broaden your little one's diet.
* Please note: I am not speech language pathologist, a pediatric occupational therapist, or a doctor. I have a degree in Chinese medicine. I'm sharing some tips that I've come across while reading papers on feeding difficulties.
Tip 1: Use the food chaining approach
A food chain starts with a food that your little one already loves and a target food. You then branch out and offer small variations of that food until you reach the target food.
For example, you may start with french fries and have the end goal of a more complex, mixed food item that also involves potatoes like chicken pot pie or shepherd's pie. The chain might look like this:
Fries
Potato tots, crinkle cut fries, or waffle fries
Potato wedges
Baked potato or mashed potato
Baked potato or mashed potato with meat on the side
Chicken pot pie or shepherd's pie
Or you might make a variation in food, but keep the overall texture and shape consistent:
Store-bought fries
Homemade fries
Sweet potato fries
Roasted carrots
Steamed or sauteed carrots
Carrots in soup
Even with a starter food and end goal in mind, it's impossible to completely map out a food chain because you want to follow your toddler's lead. Which means you may work with the same food several times before it's accepted.
Be patient and stay playful throughout the process.
Tip 2: Try flavor masking
Flavor masking is a technique that pairs a new food with a dip or condiment that your little loves.
Because kids have a natural preference for sweet foods, I like to use Whole30-approved sauces and condiments that have minimal sugar, like Primal Kitchen ketchup, Tessemae's ranch dressing, and New Primal BBQ sauce. It's one way to work in flavors that aren't dominated by sweetness.
Condiments can soften foods and make them easier to chew. They're also great for linking foods together when food chaining.
Of course, the risk here is that the dip, sauce, or spread will be licked off. And it may be the ONLY thing your child will eat.
Some of our favorites at home include:
Ketchup
Mustard
Unsweetened yogurt
Ranch dressing
BBQ sauce
Hummus
Guacamole, or mashed avocado with lime
Peanut butter and nut butters
Jam
Soft cheese, like chevre
When using flavor masking, you want to gradually fade the condiment so that your little one adapts to the true flavor of the food.
Tip 3: Make food manageable
According to Dr. Kay Toomey, you're best chances of success at mealtime are when you make it easy to learn about food and eating.
Some of the ways that you can do this are:
With structure! Stick to a mealtime + snacktime schedule and build around a routine around eating that your little one can expect
Present no more than 3 foods in small portions of 1 – 3 tablespoons
Portion food into small easily chewed bites or thin, long strips
Keep plate clutter-free to keep your little one from throwing food/the whole plate
Make a "new" food less new by presenting it first and alone
Model eating with exaggerated chewing and swallowing
Praise, cheer, and clap for ANY interaction with food
Show and described the physical qualities of food, like soft, wet, crumbly, or hard
FAQs about picky eating habits
What if my little one refuses meat or high protein foods?
The need for iron doesn't go away in toddlerhood, so meat and other sources of heme iron matter.
Try offering softer meats like shredded chicken or steamed salmon over tougher meat that requires a lot of chewing. Kids have roughly 1/3 of adult jaw strength.
Little ones who drink very little water – look for dry lips and dark pee- may eat more with an extra sauce or dip because their mouth is simply dry.
Also, take a peek at my tips on nutrition for kids who won't eat meat.
I'm pretty certain we're not getting the nutrients we need. Is there a multivitamin that you recommend?
Right now, my favorite multivitamins for kids are:
My toddler only will eat one color/texture/group of food. What next?
If you spot an aversion to an entire group of food, you may be dealing with a sensory issue. Working with a therapist can help walk you and your little one through the steps of introducing new foods.
Remember in Dr. Kay Toomey's eating hierarchy, there are 32 steps and they're grouped in categories that involve tolerance to first being near the food, touching the food, and smelling the food before ever tasting it.
You're looking to expand tolerance through play and lateral shifts, which means working with foods that are slightly different each time until you reach your goal.
Why picky eating is not a problem
Red flags aside, consider looking at "picky eating" and selectivity in a new way.
When picky eating is a problem, this means it is something that you and your toddler must overcome. This takes the fun out of eating (for both of you) and it throws a little stress, worry, and frustration into the mix.
Instead of seeing picky eating as a problem, take a child-centered approach.
As your toddler develops the ability to chew food and move it around in their mouth, there may be fear around new foods. Foods that taste funny. And foods that are hard to eat.
And amidst all that, is a toddler's developmental need to "do it myself."
So let them. Take the tips above, use what works, and roll with it. You've got this.
Do you have any picky eating tips that you would like to add? Please share in the comments below!