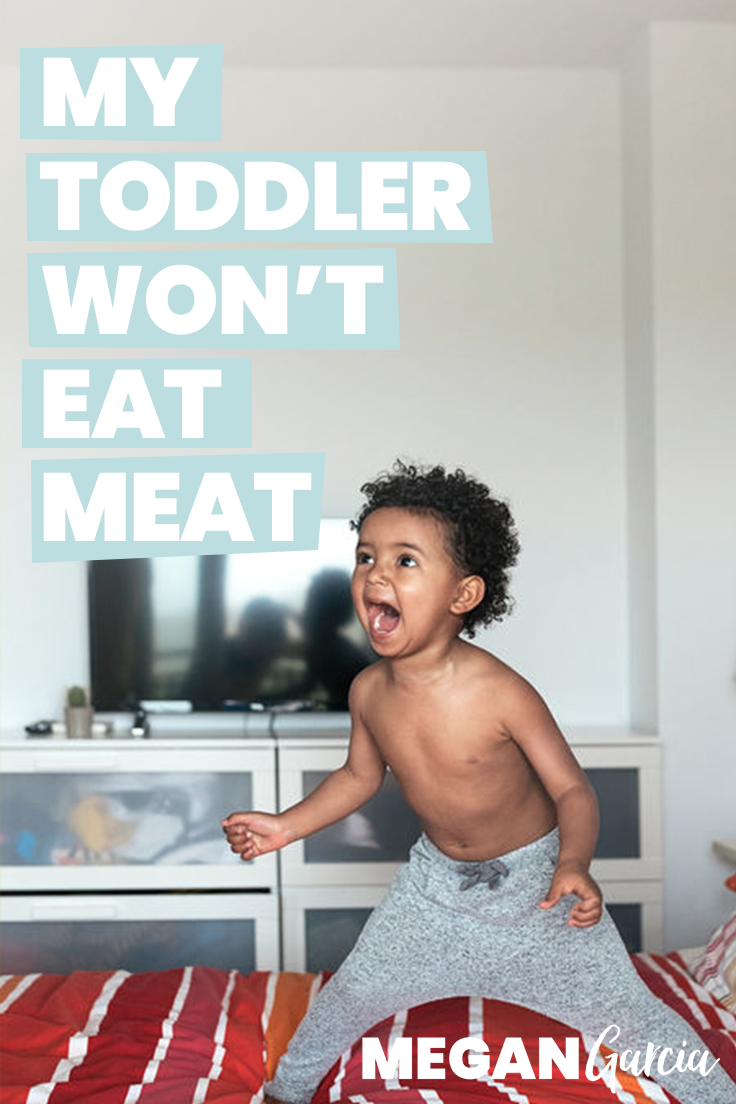 What if your toddler won't eat meat? While I am a big fan of animal-based foods, your little one may not be interested.
So, instead of meat, I've got a list of foods you can offer that are both meatless and full of nutrients your baby needs.
And if you're looking for more techniques on working with picky eaters, click here and find out why picky eating isn't a problem.
Why meat matters
When it comes to fulfilling nutrient needs, animal foods make it easy.
With animal foods like meat, dairy, and eggs – you typically see a high level of vitamins and minerals that are easy to absorb. There are also some important nutrients – like vitamin D, vitamin B12, and heme iron – that you will only find in animal foods.
If your toddler won't eat meat, you don't necessarily need to power through it – forcing, bargaining, or "hiding" the fleshy bits in something like a casserole or a liver-enhanced smoothie.
Instead, you can choose to offer a combination of smart foods that deliver a similar nutrient profile to what you'd find in meat.
For example, meat is high in protein and it contains all essential amino acids. It's also a good source of:
Iron
Zinc
Selenium
Vitamin B12
Vitamin B6
Riboflavin, or vitamin B2
Because of these nutrients, some research suggests that school-age children eating meat perform better on verbal tests. They're also more attentive to classroom work and show leadership behavior.
Broadly speaking, animal foods (including meat) easily support brain development because they contain key nutrients like iron, zinc, and vitamin B12.
Animal foods also:
Are higher in protein and protein quality
Contain no anti-nutrients that interfere with nutrient absorption
Are a good source of long-chain omega-3s
When your toddler won't eat meat, offer these foods
Clearly, meat makes it easy when you're looking to give your toddler the most nutrition in the smallest number of bites.
But when your toddler won't eat meat, you still have options. Instead of meat, be sure and offer a spectrum of these foods:
1. Dairy
This includes raw milk, kefir, cheese, and unsweetened yogurt.
Dairy is a wonderful source of protein and healthy fats. Assuming you choose grass-fed, traditionally processed dairy – you'll also find nutrients like vitamin B12, riboflavin, and vitamin K2.
2. Eggs
If you're looking for extra protein and healthy fats + cholesterol – look no further than eggs. Egg yolk is a sunny little superfood sphere, offering micronutrients like vitamin D, vitamin A, vitamin B12, riboflavin, biotin, and choline.
Heads up: Egg is not a good source of iron.
3. Fermented quinoa
Quinoa is a non-gluten seed that is a wonderful source of protein.
Fermenting your quinoa goes a step beyond soaking or sprouting, meaning your babe will be better able to use the nutrients found in quinoa and you're going to see the least amount of anti-nutrients. For step-by-step instructions on how to make soured quinoa, go here.
4. Spirulina
Spirulina is a complete protein that's also an excellent source of easy-to-absorb iron and calcium. It's also high in beta-carotene.
By some reports, the iron in spirulina is 60% better absorbed than supplemental iron (ferrous sulfate), which is commonly found in baby formula. Spirulina is also a pre-biotic, meaning it feeds your little one's good gut bacteria.
As with all foods, take extra care to ensure you offer a high-quality spirulina.
5. Seaweed
For example, dulse flakes or roasted nori like SeaSnax.
Seaweeds are a good source of iodine and calcium. While seaweeds do contain plenty of iron – its bioavailability is blocked by the polyphenols in seaweed.
6. Greens with fat
Like grass-fed butter, ghee, or coconut oil.
Green vegetables are a wonderful source of vitamin K1, which gets converted into vitamin K2.
The conversion rate is low, so be sure to offer greens with fat – for example, broccoli florets roasted in butter or a green smoothie blended with raw milk kefir. After all, vitamin K is a fat-soluble nutrient.
7. Orange vegetables with fat
Starchy orange vegetables are a notoriously good source of beta-carotene, which is later converted into vitamin A. This includes sweet potato, pumpkin, and carrots.
Like green foods that offer fat-soluble vitamin K1, you want to make sure your starchy orange vegetables are served with fat. Vitamin A and beta-carotene are best absorbed with fat.
8. Avocado and banana
Avocado and banana are a good source of vitamin B6 and wouldn't ya know it…these tend to be many babies' favorite first foods.
9. Algal oil
Procured from algae, algal oil is a source of DHA, an important long-chain omega-3 that supports brain development, immune balance, and healthy gene expression.
If your toddler won't eat meat, what do you offer instead? Let me know in the comments!