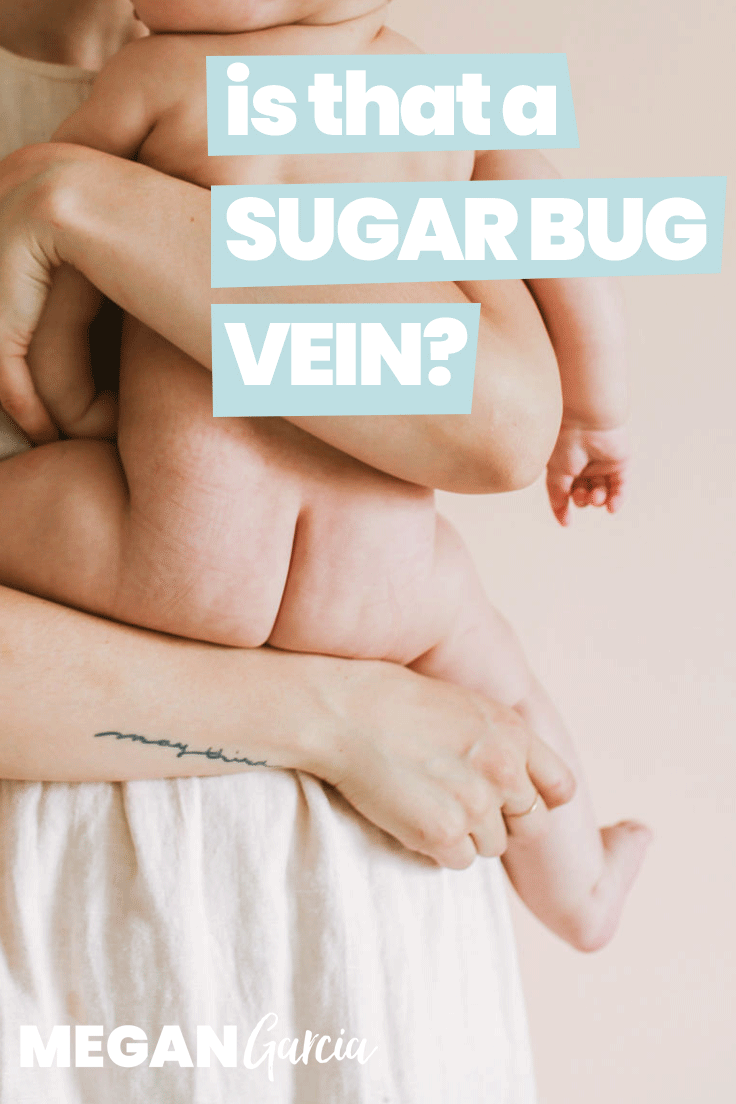 When I mentioned the blue sugar bug vein at the bridge of the nose on Instagram, the comments and my DMs lit up with questions. So many folks wanted to know more about the vein and what it means.
From the perspective of Chinese medicine, a vein at the bridge of the nose in babies and children is used as a diagnostic tool.
Meaning, we look at it in the context of the whole body to get a better idea of where baby might need more support.
What is a sugar bug vein?
A sugar bug vein is a visible vein at the bridge of the nose, in between the eyes.
In Chinese medicine, this is called "shan gen." It literally translates to "mountain root" or "root of mountain."
The general understanding is that a visible vein indicates a tendency towards digestive weakness. The more visible the vein is, the greater likelihood that you'll encounter problems.
Greenish hues around the vein mean weakened digestion.
Blue

hues

indicate "kidney" involvement. In Chinese medicine, the kidneys are related to growth and development. So failure to thrive, meet milestones, or even the development of asthma later on all involve the kidney.
Purple hues indicate that the "liver" is involved. Which may mean that your little one is competitive, adventurous, and easily frustrated. When we see overactive "liver energy" like frustration, this can affect digestion.
All babies and toddlers have weak digestion
I mean, right?
If you've spent any time around a wee one, you can see this firsthand. Spit up, colic, reflux, wide variations in stool. It's just where babies are at.
If you want to talk microbes, a baby's microbiome literally moves through stages of development during baby's first three years.
This means that baby's digestion isn't necessarily something that we need to fix.
But it is something to be aware of.
In Chinese medicine, digestion isn't only about breaking food into usable pieces.
It's also responsible for:
The production of energy and blood
Concentration and clear thinking
Dispelling "damp"
As I talk about in my class on first foods, at 6 months the demand for iron is the highest it will ever be. Because of this, iron-deficiency anemia in littles is fairly common. Chinese medicine explains this relationship to blood by way of baby's digestion.
Likewise, dampness can show up as phlegm or congestion. An accumulation of mucus. Or even waxy ears.
Which is to say that anemia, congestion, and tummy troubles are all common issues that pop up during babyhood and according to Chinese medicine, these problems can be traced back to baby's digestion.
And while no one expects littles one to have robust digestion right away, some babies have more problems than others.
Foods to avoid and offer if you see the sugar bug vein
I'm going to dive a little bit deeper into Chinese medicine lingo. If you've taken my class on Chinese Herbs for Babies, this will feel familiar.
The vein between the bridge of the nose is called a sugar bug vein because sweet foods are "damp" in nature and are said to easily injure digestion.
This means that those with vein would do better to avoid sweets and added sugar. They may also crave these foods a little more.
If you see the sugar bug vein, you don't only want to keep an eye on sugar. Other foods beyond sugar generate "damp" and can be hard on digestion.
Foods to keep an eye on/possibly restrict with a sugar bug vein:
SugarCold food
Cold food
Raw foods
Dairy
So from a TCM perspective, raw dairy ice cream would be sort of like the poster child for everything you don't want to give your little one when you see the sugar bug vein.
Likewise, this vein also tells you what's GOOD for the body.
For example, warming foods and spices, like chicken soup with dried ginger, would be especially therapeutic for littles ones with a vein at the bridge of the nose.
Does your baby have the sugar bug vein? Share what you've observed in the comments!