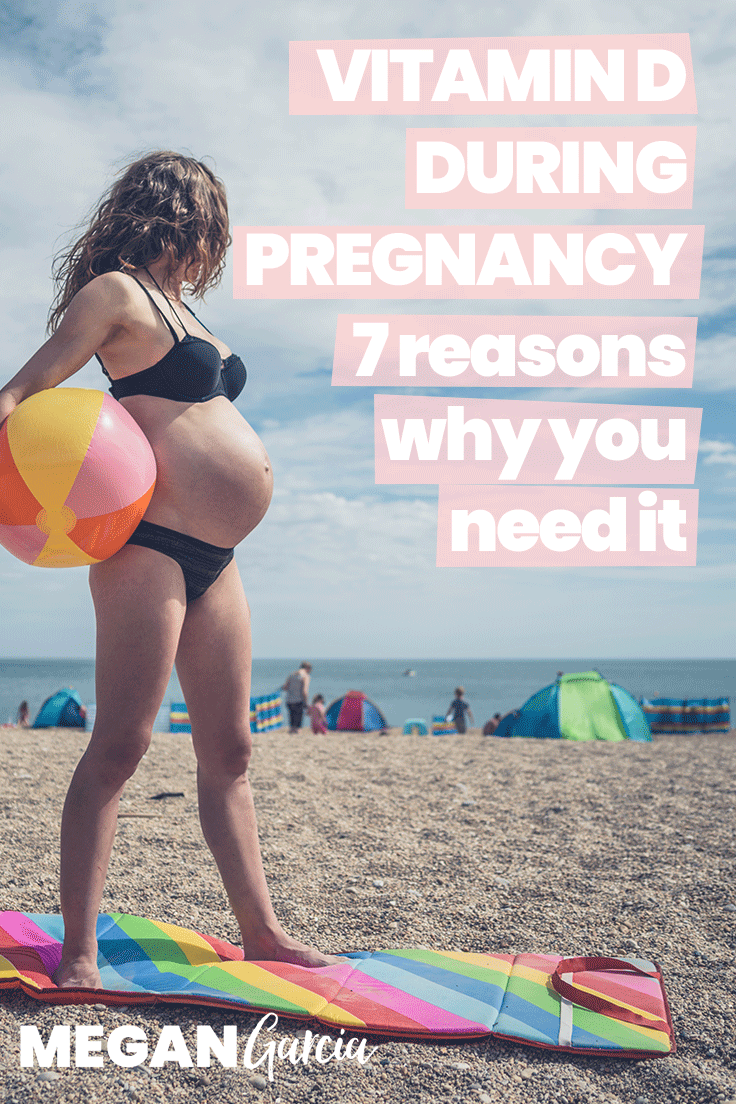 Take your prenatal and you're covered, right? Not so fast. Food gives you a specific network of nutrients – including pre-biotic fiber and special fats. Beyond food, there's sunshine. No talk about prenatal nutrition is complete without a mention of vitamin D in pregnancy.
According to a review published in 2013, getting enough vitamin D in pregnancy is essential. Because mama, you are your baby's only source of vitamin D.
At no other time during the lifecycle is vitamin D status more important than during pregnancy as the mother is the sole source of vitamin D substrate for her developing fetus.
So, vitamin D matters. A lot. But why?
A little 101 on vitamin D
Vitamin D is an interesting nutrient: It's synthesized in the skin by way of sunlight and it acts like a hormone in the body. It plays a major role in regulating gene expression. And it's not found in many foods – meaning it's tough to maintain adequate levels of vitamin D.
The idea is that for most of human history, folks spent the daylight hours outside.
These days, that's hardly the case. Most of us spend our time indoors – inside a classroom, at home, or at the office. On a daily basis, this dramatically limits our exposure to sunlight and our production of sun-lovin' vitamin D.
Pregnant mamas, why you need vitamin D
1. Vitamin D battles vaginal infection
During the 1st trimester, low levels of vitamin D are linked to vaginal infection. Not only does a vaginal infection feel icky – if there's a noticeable difference in the microbes living hanging out there – but during pregnancy it puts your baby at greater risk of premature birth. This is because vitamin D plays a major role in immune health. And vitamin D affects how your body recognizes and responds to trouble-rousing bacteria.
Vitamin D is also anti-inflammatory – and mamas with a vaginal infection have higher cervical concentrations of pro-inflammatory markers. The moral of this story – boost your vitamin D levels and lower your risk of vaginal infection while protecting your baby.
2. Vitamin D protects against miscarriage
During the first trimester (not the second), low vitamin D levels are associated with miscarriage.
It looks like this has to do with the role vitamin D plays in regulating immune activity + protecting against inflammation.
3. Vitamin D for your baby's developing brain
Because vitamin D can influence the expression of genes and because it can control inflammation – it impacts the developing brain of your baby.
For example, receptors for vitamin D are found throughout the brain – a clue that it belongs there. And vitamin D appears to regulate differentiation and maturation of cells within the brain.
Vitamin D during development also shapes the programming of dopamine (happy reward brain chemical) metabolism. And there's evidence that low levels of vitamin D have something to do with the development of autism and schizophrenia.
4. Vitamin D level in pregnancy manages blood pressure
Preeclampsia is a type of high blood pressure that can show up during pregnancy. It turns out that during pregnancy, the placenta picks up some responsibilities in metabolizing vitamin D – and the expression of a few placental genes relies on vitamin D.
This matters because low vitamin D can mean high blood pressure during pregnancy. It also sets the stage. For what? For programming that increases your baby's risk of developing high blood pressure or heart disease as an adult.
5. Vitamin D protects against asthma
Low levels of vitamin D might increase the risk of asthma. The science here is spotty. Overall, it seems there's an increased risk of "wheezy disorders" when mama's vitamin D levels are low during pregnancy or if levels are low in umbilical cord blood.
It's worth noting that supplementing with vitamin D during the 3rd trimester might be less effective in protecting against wheezy problems, like asthma. Better to start early on – in the first trimester.
6. Vitamin D builds strong bones
Bones and vitamin D – you've heard this one before, right? Well, here it is again.
A 2006 paper published in Lancet found that when mamas don't get enough vitamin D, this impacts bone mass and size in the long run.
7. Vitamin D influences baby's levels
Mama's vitamin D levels directly influence the vitamin D levels of her baby. During pregnancy, your own vitamin D status directly informs your baby's vitamin D levels – with the help of the placenta. And the same is true after pregnancy, with the help of breast milk.
This means that if you eat plenty of seafood, play (or lounge) outside in the sunshine, and supplement as needed – your baby will have all of the vitamin D he or she needs to thrive.
How to figure out your unique need for vitamin D
While most prenatal supplements contain around 600 – 1000 IU of vitamin D3, I have seen recommendations for 4000 IU during pregnancy and 6400 IU while breastfeeding.
With that in mind – the best way to meet your vitamin D3 requirements is to customize your daily dose according to your current levels. Depending on where you're at, you might want to supplement with a little less or a little more.
The solution? Swing by the Vitamin D Council and pick up an in-home kit to test your vitamin D levels.
You can then check what your vitamin D status means by going HERE – where you'll also find out how much vitamin D you need to get within a healthy range.
Are you supplementing with vitamin D? Let me know in the comments below!