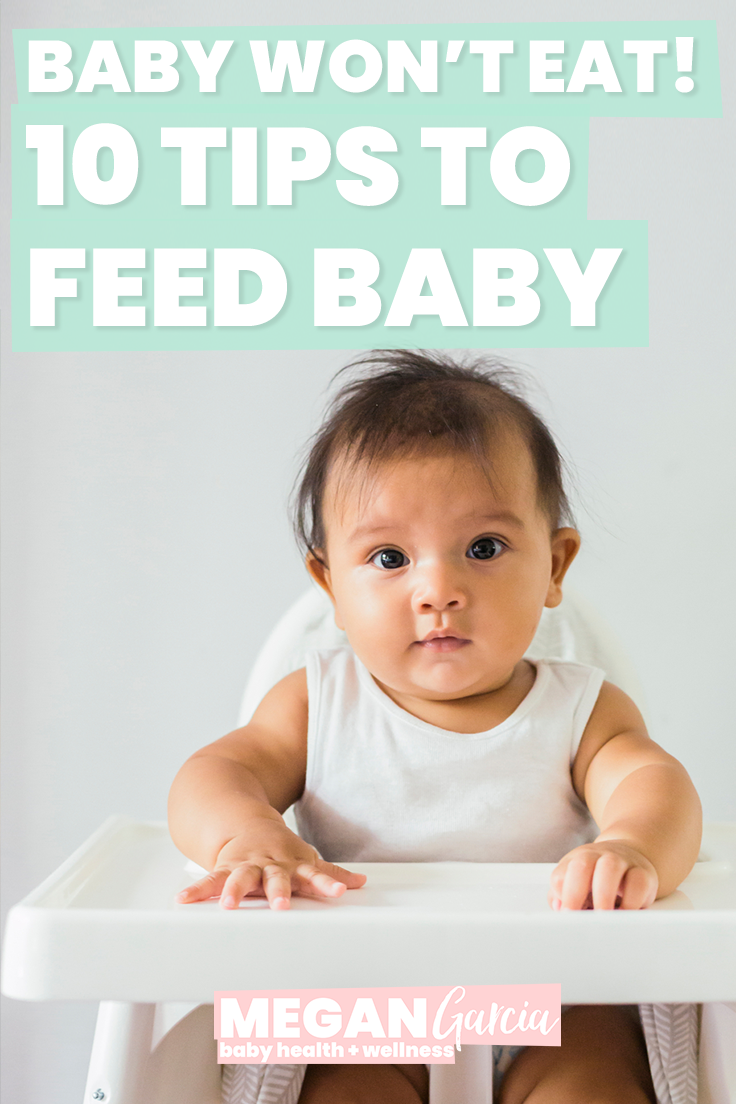 If your baby won't eat or your baby refuses solids, this is for you. If your toddler won't eat or you worry that your little one is turning into a picky eater, this is also for you.
In this blog post, I talk about what *might* be going on when your baby refuses to eat. And at the end, I share some pretty universal feeding guidelines for your little one.
But first, don't blame yourself when baby won't eat
Let's make one thing clear: Feeding your baby is NOT necessarily easy or intuitive.
If you feel like you're somehow failing because your baby isn't eating, please don't blame yourself or compare your baby to another.
It's important to understand that sucking, biting, and chewing are hard work!
Imagine all the muscular strength and coordination that it takes to move food from hand or spoon and safely to the back of your baby's throat. From a developmental perspective, little ones are still learning how to chew – moving the jaw up, down and around – well beyond the age of three.
It's the sort of thing where practice makes progress.
But without practice – or only sucking on soft foods without texture – your baby won't get the muscular loading that stimulates bone and muscle growth along with the sensory feedback that helps with coordination.
As it turns out, feeding troubles tend to show up during transitions. For example, when moving from breast or bottle to cup. Or when you introduce solids and encourage baby to self-feed.
As your baby learns how to chew and transitions from breast or bottle to solids, you may come across the following three types of food refusal.
The goal here is to work through feeding difficulties with as little friction as possible. You want to get texture in and you want to make eating a positive experience for baby.
Three types of food refusal
If your toddler or baby refuses to eat, there may be a couple of things going on.
Not eating enough
Not eating enough variety
Fear of eating
Because babies begin eating solids before they can speak, it can be tough to tell what's really going on. Sometimes, it just looks like baby isn't interested in solids.
And if food refusal lasts for longer than a month, this can be a sign that your little one needs extra support. Other red flags to look for include:
Baby taking a long time to eat
Nighttime eating in toddlers
Needing to distract baby to encourage eating
Not advancing in texture
Gagging before eating
Failure to thrive
1. Baby not eating enough
If you think baby isn't enough – but is still eating, growing, and thriving – you may have nothing to worry about.
This often affects more petite babies who naturally have smaller appetites.
In a study with over 400 children, 30% were described as poor eaters by their parents. These children were also smaller than their control group BUT what they ate relatively to their size was equivalent to normal eaters.
Keep in mind that growth rate tends to slow down towards the tail end of 12 months and into baby's second year. With that, you also see a drop in baby's along with a decrease in appetite.
Other times, toddlers won't eat because there are too many things to do and play with.
These little ones are active and energetic. They find it hard to sit still and during meal times and will only eat small amounts of food. In this case, your little one may have trouble gaining weight.
A strict feeding schedule with scheduled snacks can sometimes help because it helps to build up an appetite.
Sometimes, I also recommend that mama focuses on superfoods and supplements if nutrition is a concern.
2. Baby not eating enough variety
Toddlers are picky. It's just how they roll. And the sooner we accept a little uptick in toddler selectivity, the happier we'll all be.
According to Benny Kerzner, selectivity peaks at 18 – 24 months. And with repeat exposure to foods, you may be able to get your toddler to eat bitter veggies.
But not all picky eaters will be on board. And that's okay.
Speaking from personal experience, my oldest toddler only ate starchy veggies until he was about three years old and I never asked him to do any differently. We just shared food.
He's now 6 years old and eats collards wraps with me, roasted broccoli, and arugula salads.
I share this as encouragement.
If you had a baby who ate all the things and you're now in the picky toddler stage, just wait. It gets easier.
The big concern for selective eaters isn't nutrition. It's the stress of forcing your little one to eat. Or, the stress of going out of your way to make special food so that they will eat.
In a study spanning the first five years of baby's life, researchers looked closely at children who were identified as "picky eaters" by their parents. They found a greater likelihood of behavioral trouble like anxiety, depression, and aggression.
This isn't cause-and-effect. But it does suggest that how you see (and manage) your toddler matters.
If your little one eats no more than 15 foods, you may have a selective eater with sensory aversions. This means avoiding food because of its taste, texture, smell, or appearance.
Sensory food aversions can be a big deal because food is feedback.
Hard food. Food with stringy, dry, or slippery texture. Food that you suck, bite, and chew on with your molars helps baby develop the strength and coordination to eat.
In this case, behavioral therapists might use techniques like "food chaining" to promote the acceptance of more foods. A therapist might also use oral massage, "shaping" and "fading" of foods, and special teethers to manage sensory food aversions.
3. Fear of eating
Fear of eating can happen after a scary event. Such as choking, painful oral procedures, or with tube feeding and missed milestones. If baby links eating to something that feels unsafe or uncomfortable – like reflux or tummy troubles – this may also make baby more selective.
You may notice a fear of eating when baby approaches food and starts to cry before taking a bite. Baby might also choke, gag, or throw up when offered food.
Fear of eating often requires that you work with a therapist to help with food acceptance and reduce anxiety around eating.
Encouraging baby to work on chewing and biting skills with textured teethers can also reduce oral sensitivity and the risk of gagging.
And then there are motor skills
Beyond the above categories of food refusal, some babies need to work on the strength and coordination that it takes to eat.
According to speech-language pathologist Lori Overland, little ones with muscle-based issues may do the following when eating:
Open mouth very wide
Stick out tongue
Stick out the jar or lower lip
Bite the spoon when removing food
Use the whole head to pull back and remove food from a spoon
Likewise, without the right motor skills to chew food, baby might:
Suck on the surface of food
Let food collect on the front of the tongue or behind the teeth
Hold food in the cheek pockets
Lori Overland explains that a breakdown in sensory-motor development can lead to gagging, choking, vomiting, and food refusal.
She then suggests that a Cheerio or Gerber Puff can be handled with munching, an early chewing pattern where the jaw moves up and down while the tongue comes to the roof of the mouth. While munching is good for soft foods and ground meat, using Cheerios or Gerber Puffs provides a hard but easy-to-dissolve texture.
Instead of Cheerios or Gerber Puffs, I like Happy Baby Creamies.
Besides different food texture, working with a therapist can help baby can build muscle tone and motor skills.
10 Tips: How to feed your small human
Some babies and toddlers need specialized care with exercises and massage that supports their oral-motor development. Others need a slight shift in mealtime habits.
Below you'll find a checklist of what to do when feeding baby.
This checklist also includes the principles of responsive feeding, which will ultimately boost baby's interest in food, help alleviate the stress of feeding troubles, and help your baby to create a healthy relationship with food later on.
Responsive feeding is interactive. It takes place when mama decides what is offered and when, whereas baby decides how much to eat.
1. Avoid distractions during mealtimes. This includes TV, iPads, and smartphones. Relying on distractions can work at first, but may eventually make the problem worse.
2. Keep cool. Even if your kiddo won't eat or there's food EVERYWHERE. Do your best to respond rather than react. Expect a mess. Make eating together fun. And be sure to watch for cues that your baby wants more or is done.
3. Face each other while eating, rather than placing baby on your lap. This will help you read your baby's cues and it will help your baby learn from how you eat.
4. Eat with baby and show baby how to eat.
5. Use words to encourage baby but make sure they're not mechanical like "eat, eat."
6. Limit how much time you spend eating to 20 – 30 minutes per meal and 2 – 3 hours between each meal.
7. Offer foods that make sense for baby's age. You can find out more HERE.
8. Give new foods a chance. When first starting solids, you may need to offer foods up to 15 times. If it makes sense for you, switch things up daily or every other day.
9. Texture FTW. Even when offering purees, work in texture and sensory feedback by using spoons with ridges and bumps and a baby toothbrush.
10. Encourage self-feeding by following the principles of baby-led weaning. When using a spoon, let baby do the work of removing food from the spoon. You can also offer a preloaded spoon or a feeder for baby to chew on.
Do you have any tips to share when baby won't eat? Drop them in the comments!