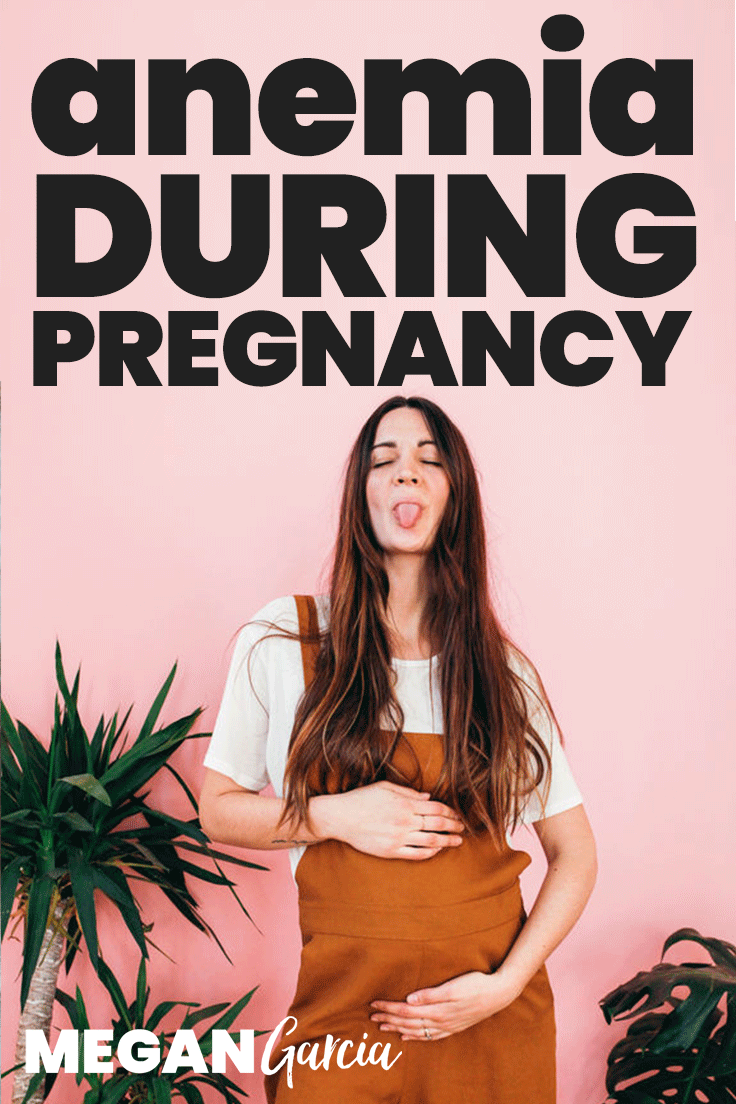 The other day on Instagram I got a question about anemia during pregnancy. The tips I shared were so straightforward and doable, that I decided to write about it here.
This also gives me a little more room to explain why DHA and choline can improve baby's iron stores.
What is anemia during pregnancy
Anemia during pregnancy occurs when you don't have enough red blood cells. Because blood cells deliver oxygen throughout the body, you may feel tired, have low energy, feel short of breath, and have heart palpitations.
Heads up: It's common to see a slight drop in hemoglobin (a common measure for anemia) during a healthy pregnancy.
Iron deficiency happens when stored iron runs low. Iron deficiency anemia happens when iron levels fall so low, you're unable to make enough red blood cells.
While iron is important for your baby's development, it's worth saying that not every mother needs supplemental iron.
Some things that may put you at risk for low iron:
Low dietary iron or missing co-factors to support iron uptake
Multiple pregnancies
History of heavy bleeding
Anemia effects on baby
Here's the scoop: Whether it's fetal development during pregnancy or brain development postpartum, your baby needs iron.
Iron plays a role in:
DNA synthesis
Energy production
Red blood cell production
Myelination
During pregnancy, a lot of the above is going on. And a few kinks in the flow can have long-term consequences.
For example, myelin is a fatty sheath around nerves and it increases the speed that information travels. During the third trimester and baby's first two years, the process of myelination moves quickly, with fatty myelin present in nearly all areas of the brain by 9 months and at 80% of adult levels by the age of two.
As this process unfolds, it requires special fats and micronutrients, like iron.
The concern here is that abnormal myelination is linked to developmental disorders like dyslexia and autism spectrum.
Below, I talk about three safe and simple steps you can take to protect your baby against low iron levels during pregnancy.
Afterward, I share my favorite ways to support mama iron levels.
1. Take supplemental DHA
Chances are, you're already taking a DHA or fish oil supplement during your pregnancy. If so, the info in this section may help to reassure you that you're doing good things for your baby.
If you're not taking DHA, start.
DHA is a long-chain omega-3 fatty acid and during pregnancy, it's an indispensable brain-building nutrient.
Besides that, DHA supports healthy gene expression. Including genes in the placenta that pick up and move iron to baby.
When it comes to iron deficiency during pregnancy, these genes are up-regulated to make sure baby receives enough iron for development.
But there's a limit on this safety mechanism. And this is why some mamas need to supplement iron during pregnancy.
Because DHA enhances the expression of iron transport proteins and genes in the placenta, this means higher levels of stored iron for baby – very good news for all those hard-working cells creating myelin – and better iron metabolism.
According to researchers, DHA supplementation may be a way to protect against the immediate effects of iron deficiency, like low birth weight or an early arrival.
My favorite sources of DHA are:
Cod liver oil: Besides an excellent source of DHA and EPA, cod liver oil is naturally rich in vitamins D3 and A.
Salmon oil: If your prenatal already has high levels of preformed vitamin A, I prefer salmon oil.
2. Eat eggs, especially the yolks
There's some really interesting science around choline and its relationship to iron deficiency during development.
For starters, it helps to know that choline – like DHA – can modify gene expression.
When it comes to the effects of iron deficiency, animal studies show that choline can help restore the healthy expression of genes in a part of the brain called the hippocampus, which is involved in memory and learning.
There are two periods of time when this is possible: During pregnancy and during postpartum. Choline is especially effective at making up for the effects of iron deficiency during pregnancy.
Egg yolk from healthy, happy hens is a very good source of choline. So is liver.
Other sources include:
Poultry
Red meat
Wild salmon (also great for DHA and vitamin D)
Shrimp
Dairy
Peanut butter
3. Delay cord clamping at birth
When looking at the effects of low iron in babies, researchers found that delayed cord clamping or cord milking led to greater iron stores than immediate cord clamping.
And as it turns out, these larger iron stores are associated with greater myelin formation at 4 months old compared to babies with immediate cord clamping.
To get the most out of delayed cord clamping, be sure to have your birth team hold baby below the level of the placenta for about 30 seconds before placing baby on your chest.
What about iron supplements?
When thinking about iron supplements, it's important to take into consideration other things linked to anemia during pregnancy. Besides folate and vitamin B12 status, other nutrients have been linked to anemia, including deficiencies of:
In this case and in other cases where diet isn't the cause – like chronic inflammation – supplementing with iron doesn't exactly address the problem.
So, before supplementing, you may want to first make sure you're getting the above nutrients.
While cod liver oil is an excellent source of whole food vitamins A and D, I often like to see an additional vitamin D supplement. Until convinced otherwise, I am still a bit of a vitamin D fangirl.
My favorite iron supplements are:
In addition to the above, I would add a whole food vitamin C powder to help with iron absorption. This one from Pure Synergy is my favorite.
And beyond that, traditional Chinese herbs are phenomenal at addressing anemia and building blood while giving your body the unique support that it may need during pregnancy.
What's been your experience with anemia during pregnancy? Please share in the comments below!