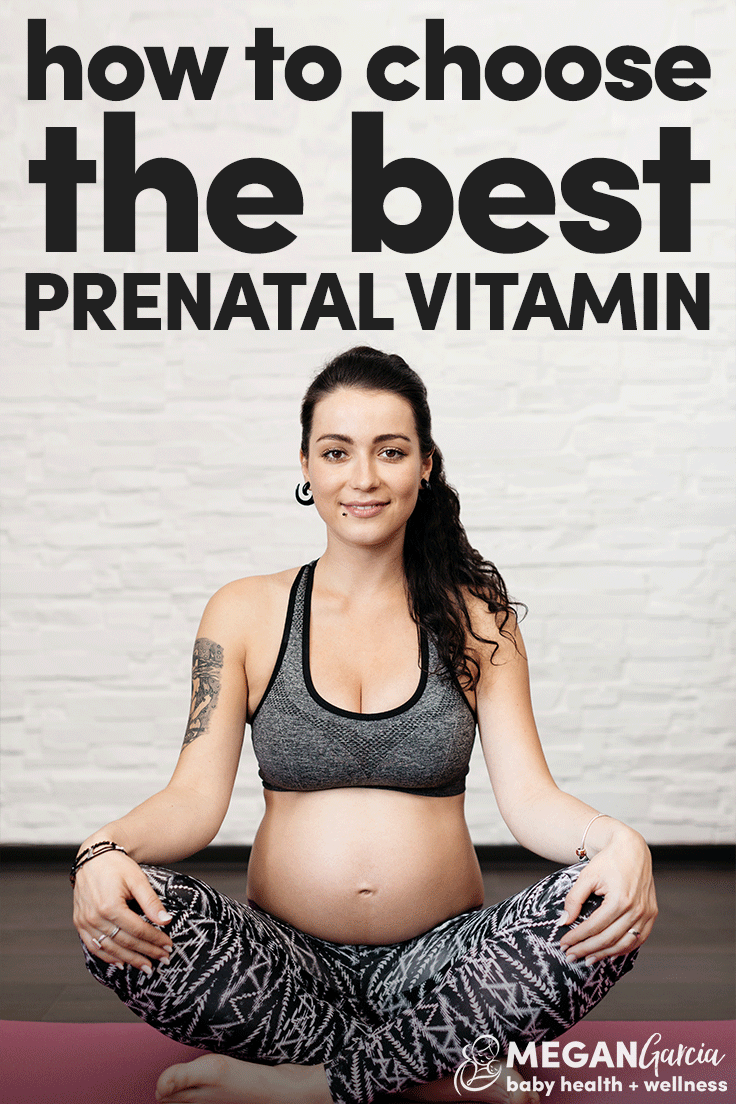 When choosing the best prenatal vitamin, I like to look for a specific set of non-negotiable nutrients. Then, I take mama's everyday diet into account.
Guess what? My favorite prenatal supplement is NOT a whole food prenatal.
This is mainly because it's hard to tell what forms of micronutrients manufacturers might be using.
Below I share what I look in a prenatal vitamin along with the two prenatals that are my personal favorite.
Why natural prenatal vitamins aren't necessarily the best prenatal
The best prenatal gives mama what she needs to have a healthy baby. And even though I  love real food and keep a cabinet full of herbal remedies, I'm not convinced that natural prenatal vitamins are the best.
Why?
Because whole food prenatal supplements still add in synthetic nutrients. This includes MegaFood Baby & Me, New Chapter Perfect Prenatal, and Pure Synergy PureNatal.
What these companies do is combine the pulp from fruit, veggies, and leafy greens with vitamins and minerals. Then, they ferment it.
MegaFoods says they,
…then move this delicious pulp through a series of tanks where we integrate in more Vitamins for potency.
New Chapter explains that,
Targeted nutrients (vitamins and minerals) are added to the yeast solution.
Whereas Pure Synergy describes the process like this,
We begin by collecting and combining the purest, most potent ingredients including our pure USP vitamins and minerals and an abundant array of entirely certified organic fruits, vegetables, sprouts, grasses, essential fats, carbohydrates, and proteins all ideally suited to grow each individual vitamin and mineral.
In each case, the packaging and marketing might lead a mama to believe that she's getting all of her prenatal nutrients from food. But in reality, the food's nutritional value has been augmented with added vitamins and minerals.
And in some cases – such as folic acid or cyanocobalamin – these added nutrients are harder for the body to use.
Just check the label to see what you're getting. In the case of trace minerals, the label may not tell you what form of mineral was used.
The big benefit of whole food supplements is that they do contain co-factors and sometimes enzymes that can support absorption.
The best prenatal vitamins have these nutrients
Methyl donors
Methyl donors are a type of nutrient that affects gene expression, which can be particularly important during development.
This includes:
Vitamin B12
Vitamin B6
Folate
Choline
The above nutrients are interrelated. For example, we all know that folate is important during pregnancy for the prevention of neural tube defects, but choline can support mamas with folate deficiency.
When it comes to folate and vitamin B12, look for the methylated forms since those will be easier for your body use. On a label, this may read as methylfolate or L-5-MTHF and methylcobalamin.
Choline
If you're interested in your baby's brain development, take note of choline.
Choline is the precursor to acetylcholine, a neurotransmitter that's essential for the growth and maturation of brain cells.
Mama's choline levels are associated with cognitive development in children up to 7 years old. What's more, higher supplementation of choline during pregnancy is linked to fewer emotional self-control problems in children.
During pregnancy, choline plays a role similar to folate and acts as a methyl donor, which means it can have a lasting effect on gene expression.
Including those genes that influence behavior.
Choline also has an anti-inflammatory effect during pregnancy, which is important since inflammation is associated with growth restriction and premature birth.
Recommend daily intake for pregnant mamas is 450 mg of choline.
However, a team of researchers at Cornell University found that mamas who took 930 mg of choline a day during their third trimester had babies who reacted faster to pictures across 4 assessment ages than mamas who took 480 mg/day.
Which suggests that current recommendation for choline may be too low.
Vitamin K2
Many prenatal supplements have vitamin K1, which comes from green plant foods and supports blood clotting.
But what about vitamin K2?
Vitamin K2 helps vitamins A and D do their job, ensuring strong bones, beautiful teeth, and robust immune health.
Your breast milk gives your baby a form of vitamin K2 called MK-4. Since the body makes and stores MK-4, I prefer to supplement with MK-4.
That said, both MK-4 and MK-7 do good things for bone development.
Vitamin D3
There are many reasons why you need enough vitamin D during pregnancy — I cover seven of them here.
For your baby, vitamin D (with the help of vitamin K2) helps to form strong bones. It protects against preterm labor. And it packs some serious mojo when it comes to immune balance and related disorders. Like asthma, allergies, and autoimmune disease.
All prenatal vitamins have vitamin D.
The problem? It's not nearly enough.
According to the Vitamin D Council, pregnant mamas need 4000 – 6000 IU a day to meet the demands of pregnancy and breastfeeding.
Many prenatal vitamins offer less than the bare minimum, 400 IU.
When reading labels, also check to see if your prenatal contains vitamin D2 or D3.
This is because vitamin D3 is what the body makes, meaning it's easy to pick up and use. Vitamin D3 raises blood levels of vitamin D.
Whereas vitamin D2, not so much.
Two prenatal supplements that I recommend
There are two prenatal supplements that I recommend to mamas.
Seeking Health Optimal Prenatal
Seeking Health Optimal Prenatal is my go-to prenatal supplement during pregnancy and postpartum.
Recent research on carotenoids (like lutein and zeaxanthin) tells us that these special compounds may safeguard against preeclampsia, preterm birth, and growth restriction.
What's more, the carotenoid lutein is concentrated in baby's brain and thought to play a role in developing connectivity and cognitive function.
Seeking Health Optimal Prenatal also contains chelated minerals (read: easy to absorb) along with methylated vitamins. You'll sometimes see chelated minerals with the TRAACS name and this is a form of the mineral that's very easy for mama to use.
And it doesn't have iron.
While iron deficiency can be a problem for some mamas, there are other mamas who don't need the extra iron.
And finally, if you're sensitive to methyl donors like choline and methylated B vitamins, Seeking Health has you covered.
FullWell Prenatal
FullWell Prenatal is very similar to Seeking Health and another favorite of mine.
What makes FullWell different is that it's high in vitamin D3.
Each serving offers a full 4000 IU, rather than 2000 IU. If you know your vitamin D levels are low and you need extra supplementation, it may be helpful to get all your vitamin D3 in one place.
In contrast to Seeking Health, FullWell also offers slightly more choline and magnesium.
The types of magnesium in each band is different. If you're wondering whether or not this matters, the short answer: Not really.
Magnesium glycinate and malate are both high quality.
And if you're doing a comparison on bioavailability, glycinate and malate are your winners — with magnesium citrate or magnesium oxide (common in other prenatals) being the least bioavailable.
And why does magnesium matter?
Welp, it may help to resolve restless leg syndrome during pregnancy and manage preeclampsia.
Do you have a favorite prenatal vitamin? Tell me about it in the comments!