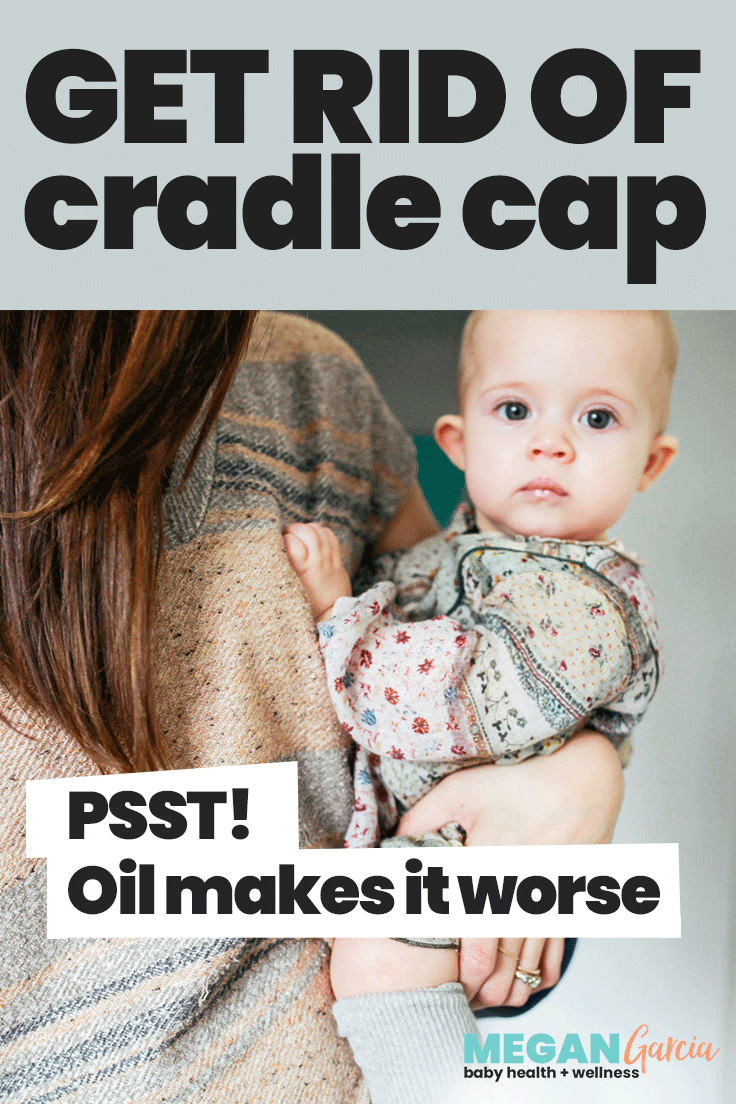 Do you really need to remove cradle cap?
When you have a newborn, problems like colic and reflux are tough to ignore. But it's easy to let a something like cradle cap go. With the expectation (or hope 🥴) that it will resolve on its own in time.
But cradle cap isn't just dry skin. It's caused by an overgrowth of yeast on the skin. And so really, in my experience, it's best to gently disrupt this environment before it decides to hang around.
What is baby cradle cap?
Cradle cap, or seborrhoeic dermatitis, looks like yellow or brown scales on your baby's scalp.
Other places you might find traces of baby cradle cap:
Around the ears
At the brow line
In the armpits
Around the diaper area.
Cradle cap is incredibly common, showing up in over 70% of babies during their first 3 months of life.
It isn't painful or dangerous for your baby. And fortunately, most cases will clear up at around 4 – 6 months.
But a stubborn case of cradle cap can last as long as 2 years and show up again during puberty.
What causes cradle cap?
The most common culprit is yeast.
Your baby's body home to trillions of microbes, like bacteria and yeast. For the most part, we harmoniously co-exist with these microscopic bugs. And many of them are essential in fortifying protective "barriers" – such as the barrier for your baby's:
Lungs
Digestive tract
Skin
Sometimes, microbes go rogue and begin to take over their environment. This is what happens in the case of cradle cap.
According to a review published in 2014 through the Cochrane Library, there is a solid link between cradle cap and the yeast, Malassezia.
Which explains why cradle cap tends to improve with antifungal drugs.
It turns out that this particular yeast breaks down sebum (a waxy, oily substance secreted from the skin) and then consumes the fatty acids found in sebum. In particular, the saturated fatty acids – which are hard fats that you would find in coconut oil or ghee.
In a nutshell, the yeast Malassezia feeds on fat.
Many home remedies – like olive oil, coconut oil, and shea butter – contain fat that feed the yeast. Scientists even use olive oil in the lab to grow Malassezia!
The best oil for cradle cap
Elaine Siegfried, a medical doctor at St Louis University School of Medicine, explains that the best oil for cradle cap isn't a traditional oil.
Saturated fatty acids likely encourage Malassezia overgrowth and excess unsaturated fatty acids may induce inflammation and scaling. As non-digestible oil, mineral oil may provide a triglyceride-free alternative to organic oils.
Mineral oil is a by-product of crude oil refinement, which is used to make gasoline and other petroleum products. And even though it has a slick and oily texture, it does not contain fat.
But it's not without problems.
While mineral oil is good for starving and softening colonies of Malassezia yeast, it doesn't nourish or protect your baby's skin. And some mineral oil products for baby contain synthetic fragrances, which can irritate your baby's skin.
A cradle cap treatment that works
I discovered a natural alternative to mineral oil when my second baby was around 6 months old. I tried putting some of my Lapis face oil from Herbivore on a stubborn patch of cradle cap and it immediately improved.
After looking into the ingredients, something called squalane stood out to me.
Like mineral oil, squalane is known as "hydrocarbon."
It's also a saturated hydrocarbon, which (like saturated fat) makes it really stable. Because it's stable, squalane is pretty popular in the cosmetic industry.
The body naturally makes the precursor to squalane – known as squalene – and you can find it in sebum, produced by hair follicles. Yeast and bacteria living on the skin eat the fatty acids in sebum, but not the squalane.
Squalane is NOT a fat.
Even though it's oily and used and an emollient, it's a hydrocarbon without fatty acids. So it will not feed Malassezia yeast.
And unlike mineral oil, squalane is 100% natural and safe.
How to remove cradle cap
How to remove cradle cap is really about steering clear of oils and fat – and instead opting for squalane. But which squalane to use?
Many parents I've talked or worked with use simple, pure squalane and get fabulous results. I've personally tinkered around with quite a few brands of squalane. I like:
You can also use Lapis Oil from Herbivore. The blue tansy essential oil in the blend makes it especially anti-fungal. Some parents report this worked best for them.
Regardless of the brand, squalane works just like oil. The only difference is that it softens scales but does not feed the yeast!
How to remove cradle cap:
Massage squalane into the scalp. Leave for 10 – 30 minutes.
Loosen the scaly patches of cradle cap with a soft-bristle brush or a brush-comb combo like this.
You can leave squalane on skin overnight or even for several days if baby's skin is extra sensitive. Otherwise, shampoo with a gentle baby wash like Baja Baby.
What's worked for your baby's cradle cap? Let me know in the comments!