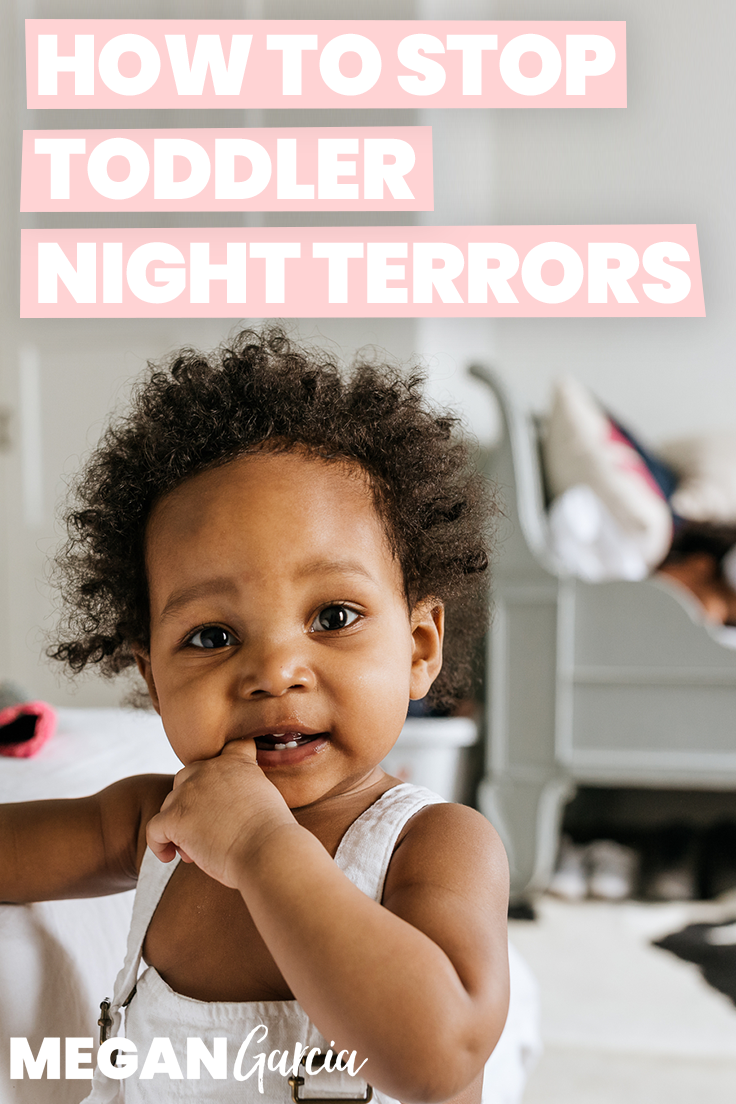 Problems with sleep, including toddler night terrors, is something that comes up a lot in my work. And just like a sugar bug can point to poor digestion, sleep troubles have their own meaning in Chinese medicine.
When my three-year-old starting waking up and screaming at night, thoroughly in a rage that I was trying to comfort him, I quickly managed the situation with herbs and all was well again.
We're talking peaceful zzzzz's from my kiddo and a big sigh of relief from me.
What are night terrors?
If your toddler wakes up screaming in their sleep and doesn't remember who you are or where they're at, you may be dealing with a night terror.
Night terrors, sleep talking, and sleepwalking belong to a group of sleep disorders called non-REM parasomnias.
Toddler night terrors, also called sleep terrors, usually show up with the following features:
Occurs within the first three hours deep sleep, or the first half of sleep for the night
Your little one wakes abruptly, screaming, panicked, and fully agitated
There's talking, but it doesn't make sense
Any attempt to comfort your child makes the situation worse
By morning, there's usually no memory of what happened
Night terrors happen more frequently in boys and are uncommon after puberty. The age range that we tend to see them in is 1 – 12 years old.
In contrast, nightmares usually happen in the towards morning. You'll see less anxiety, talking, and movement. When your little one has a nightmare, they're also easily woken up and can remember their dream.
Figuring out whether you're dealing with nightmares or night terrors can get tricky because sometimes little ones have both.
What causes toddler night terrors?
While some folks argue that co-sleeping is the ultimate remedy for night terrors, I personally think this is wishful thinking and oversimplification.
Why? Because it's suspected that iron deficiency during babyhood may be at the root of sleep disorders.
This is one of the reasons I emphasize meaty minerals like iron in baby's first foods.
And when it comes to parasomnias like night terrors and sleepwalking, genetics also appear to play a role.
Lastly, if you ask around, you'll find that plenty of co-sleeping babes (hi, that's us) experience night terrors.
How much sleep do kids need?
At around 3 months of age, baby's circadian system matures and you start seeing a sleep rhythm (and all the angels sing). By 6 months, you've got full sleep cycles happening.
But this doesn't necessarily mean uninterrupted sleep. No, it does not.
By some estimates, 50-30% of parents report sleep problems during those early years, when babies and toddlers are getting 14 – 12 hours of sleep daily, with at least one nap.
Deep sleep (when night terrors happen) takes place during the first half of the night. The amount of deep sleep that littles need increases during the first year of life and then peaks in childhood.
Sleep gives the body an opportunity to rest and recover from the day. It's also essential for:
Learning
Memory
School performance
Ultimately, good sleep supports development. So we want to make sure our kids get the rest that they need.
Babies, from a TCM perspective
TCM = traditional Chinese medicine.
There are some basic principles in Chinese medicine that can help us understand children. These principles are based on our natural environment.
When it comes to night terrors and sleep troubles, it's useful to know that:
Babies have "pure yang." Little ones are understood to have "pure" and robust energy. This is often called "pure yang," where there's an abundance of potential and growth. Makes sense, right? Babies got nowhere to grow but up.
Babies have liver excess. This natural surplus of "pure yang" fuels growth and is connected to the TCM liver, which is NOT the physical liver.
Babies have weak digestion. This is totally normal and not necessarily a red flag. You can find out more about baby digestion here.
How to stop night terrors in toddlers
Some folks just want the fix. Others are interested in the mechanism.
I've got both.
The remedy for night terrors in children, including my own toddler – which my husband marvels at – is based on a formula called Yi Gan San, also called "restrain the liver powder."
Yi Gan San comes from a text published in 1556 (you read that right) called Synopsis of Caring for Infants. And it really emphasizes that babies are not just tiny adults.
So what does Yi Gan San do?
It cools heat from liver excess and builds blood. And it can harmonize the relationship between the liver and poor digestion, which is also called "wood overacting on earth."
Originally, Yi Gan San was used for:
Liver channel spasms, think restless leg syndrome
Teeth grinding
Palpitations with anxiety
Insomnia and restless sleep
When using this formula, you would want to look for other "wood overacting on earth" signs, like irritability, a tendency to shout, and tummy troubles.
The pediatric herbs I use for night terrors are a modified version of Yi Gan San, called Peaceful Focus from Blue Poppy.
This formula isn't just to get your kid to sleep. It's used to restore balance.
As such, you would want to use it throughout the day, not just in the evening.
Is there more science on herbs for night terrors?
Why, yes. Yes, there is!
Do you know what medication is prescribed for night terrors? It's called clonazepam, also known as Klonopin. Serious stuff, y'all.
Clonazepam is a benzodiazepine that suppresses stages three and four of non-REM sleep, which is when we see night terrors happen. Does suppressing the natural rhythm of sleep sound good to you?
Me neither.
But here's the thing: Some of the herbs in Yi Gan San have been found to bind to the GABA-benzodiazepine receptor complex, which explains how it also can help manage anxiety.
All without the side effects of hard prescription drugs.
Are you swooning yet over the efficacy of Chinese medicine? And how science is literally working its way backward to prove what's been known for centuries?
A word (or two) on melatonin
Melatonin may make your little one sleepy. But is it safe?
Researchers at the University of Adelaide warn doctors and parents not to use melatonin to manage sleep problems in children.
Professor David Kennaway at the University of Adelaide's Robinson Research Institute explains,
The word 'safe' is used very freely and loosely with this drug, but there have been no rigorous, long-term safety studies of the use of melatonin to treat sleep disorders in children and adolescents.
More recently, in 2023, the Journal of Clinical Sleep Medicine published a health advisory on melatonin use in children. Essentially, we're seeing more melatonin use at home, without studies that show its safety.
This is worth noting because:
From 2012 – 2021, there's been a big increase in kids taking melatonin. According to the

Morbidity and Mortality Weekly Report

, the number increased from 8,000 to 52,000 and 15% of those kids were hospitalized for overdose.
Variation in melatonin content is reported to be less than 83% – more than 478% of labeled content.Chewable tablets, which are given to kids, have the biggest variations in their formula.
Chewable tablets, which are given to kids, have the biggest variations in their formula.
And if you're wondering, the side effects of melatonin use in children include:
Morning drowsiness
Loss of bladder control
Headache and dizziness
Diarrhea
Rash
Low body temperature
All of which sounds less-than-amazing. Right? More like a band-aid and less like a solution that restores balance.