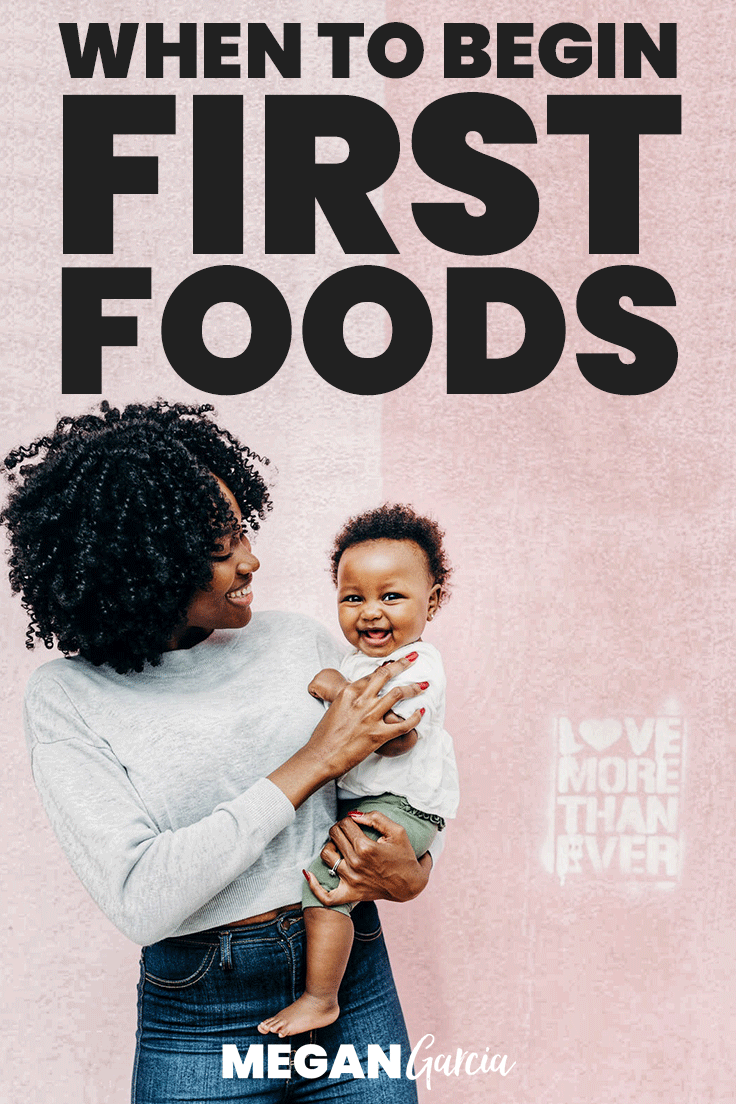 Four months, six months, or do first foods even matter? Starting solids is less about a specific date and more about listening to your baby. With a few cues, your little will let you know when to begin first foods.
An active interest in food is one cue that I always look for.
Other cues can include a loss of baby's tongue thrust, the ability to sit unsupported, and increasing hunger – especially at night. However, unsupported sitting and loss of tongue thrust often come with time and may not happen until later.
But one thing is certain.
Food before one is more than just fun.
When to begin first foods
I'm about to bust a myth about first foods for baby that sometimes comes as a surprise: After 6 months, breast milk is not enough.
Yes, breast milk is critical for good digestion. It does things like supports brain development and protects against respiratory infection. Breast milk is undeniably important.
But after 6 months, your baby needs more. And this is when it's time to think about starting baby on solids.
According to the World Health Organization,
The target age for complementary feeding is generally taken to be 6 – 24 months of age, even though breastfeeding may continue beyond 2 years."
It turns out that at around 6 months, a healthy breastfed baby's iron levels drop so low that outside sources of iron are necessary. And levels of zinc in breast milk also fall at around this time.
Let's be clear – no matter how many supplements you take, your breast milk will not meet your baby's requirement for iron or zinc.
But your baby's first foods will.
Specific foods like chicken meat, liver pate, and wild-caught salmon are soft enough for a 6 month old baby to squish between the roof of his mouth and his tongue. And they're high in "meaty minerals" like iron and zinc.
First foods to include when starting solids
The most common nutrient deficiencies you will see in breastfed babies are iron and zinc.
There's also the danger of vitamin D deficiency if mama doesn't get enough vitamin D through foods or supplement with roughly 6000 IU a day.
And because your baby has a rapidly developing brain, it's critical to offer first foods that are high in long-chain omega-3s, usually in the form of fatty fish.
Why fatty fish?
The human body does a poor job of converting short-chain omega-3s (found in plants, nuts, and seeds) into its long-chain cousins – most notably DHA.
If you're wondering where to find all these wonderful nutrients, here are some more ideas to get you started.
Iron
Liver, bone marrow, beef, lamb, sardines, oysters, and high-quality spirulina.
Likewise, foods high in vitamin C will boost iron absorption. This includes sauerkraut, papaya, and kiwi fruit.
Zinc
Oysters, crab, beef, chicken, and yogurt.
Vitamin D
Wild-caught salmon, sardines, fish roe, and egg yolk.
Long-chain omega-3s
Wild-caught salmon and sardines. You can find smaller amounts of long-chain omega-3s in red meat and egg yolk.
Got questions about when to start baby food? Ask in the comments!