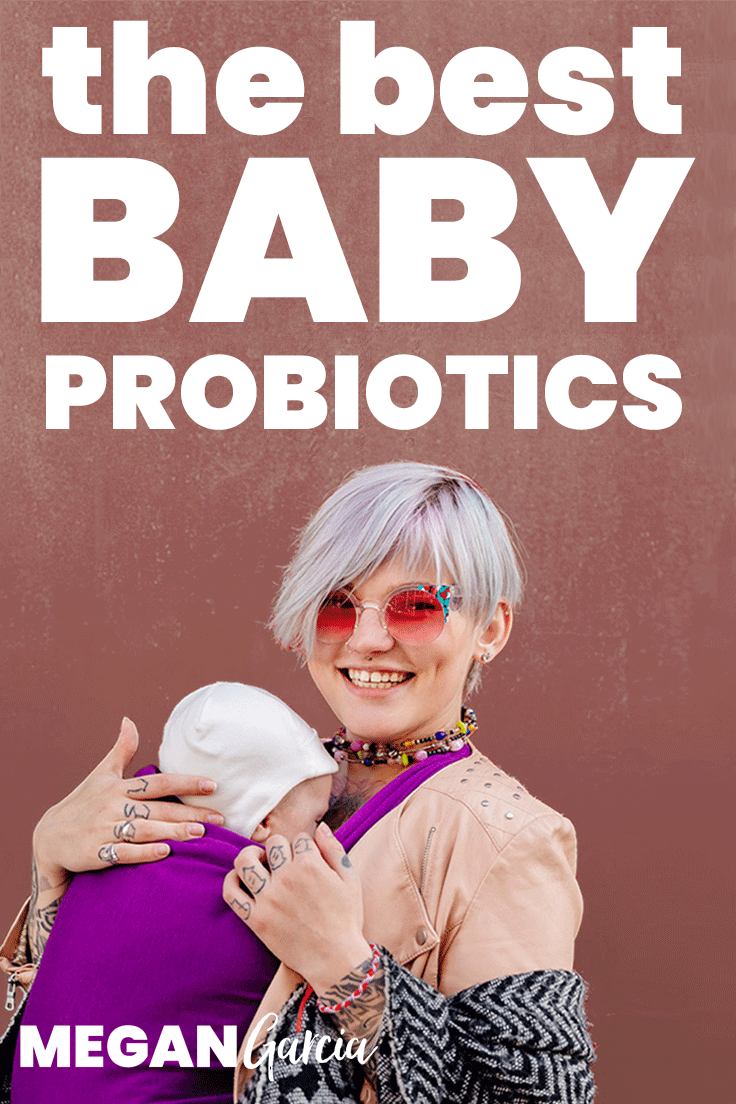 When considering the best baby probiotics, there are really TWO people that you need to think about: you and baby.
But first, consider the fact that we did not evolve taking probiotics. In other words, there's all sorts of magic that goes on when it comes to the acquisition and development of baby's microbes. And while baby probiotics can help your little one course-correct, it's possible that they could also throw a good thing out of balance.
So, I don't recommend a daily probiotic unless you see signs that your little one could use the extra support. This could mean:
Baby probiotics might also be a good idea for the reasons listed here:
Baby was born via C-section
You took antibiotics while pregnant
Baby has been on antibiotics
Baby takes formula
Baby's bacteria, before birth
Let's go there for a minute, shall we?
Because really, so much happens during pregnancy.
And that's a little different from what most textbooks teach: We're taught that baby's first exposure to microbes happens during birth. And while a major portion of your little one's "inheritance" takes place then, several decades of research suggests that baby is also exposed to mama's microbes during pregnancy.
In other words, the womb may not be a sterile environment.
Is your mind blown? I know mine was when I learned this.
For example strains of bacteria have been found in umbilical cord blood, amniotic fluid, and the placenta. This is true of babies born vaginally and via c-section.
What's more, research looking into meconium, your baby's first stool, suggests that your own gut microbes help to "seed" baby's gut.
And this is where things get extra interesting: It's thought that prenatal exposure to microbes helps to prepare your little one for the outside world. For example, microbes in utero:
Stimulate the arm of the immune system that battles infection and wards off invaders
Trigger the expression of genes that support your baby's gut barrier, telling it to make protective mucus and recruit cells to the intestinal wall
Support baby's brain development
Are probiotics for newborns necessary?
Even if the womb isn't sterile, your baby picks up most microbial programming during delivery and while breastfeeding.
How does this happen?
During a vaginal delivery, microbes from the birth canal and colon immediately latch on and populate baby's mucous membranes, which includes baby's:
Nose
Eyes
Mouth
Digestive tract
This first major inheritance protects your newborn against infection. It also creates an environment where probiotic friends, like Lactobacillus and Bifidobacterium, can flourish.
If your baby was born via cesarean section, there are no vaginal microbes present at birth. Instead, you find microbes from human skin and the hospital environment.
These microbes are very different from those found in a mother's birth canal.
Maria Dominguez-Bello at the New York School of Medicine explains that it's unknown how long these differences persist. However, you can find microbial differences in vaginally-born babies and c-section babies from 1 month of age all the way up to 7 years.
Unfortunately, a traditional c-section can sometimes have long-term consequences. Such as asthma, respiratory allergies, food allergies, eczema, and childhood obesity.
The good news: c-section delivery is an evolving practice. In the future, the standard practice may allow mamas who have a c-section to inoculate their babies with their own vaginal flora, helping to partially restore baby's microbes.
In the meantime, it looks like probiotics for newborns may be a good idea when baby is born c-section.
The probiotics in breast milk
Okay, spoiler: The best baby probiotics are (usually) found in breast milk.
But there's more to breast milk than macros and probiotics. For example, we know that breast milk:
Gives baby important immune signals and antibodies that protect against infection
Contains hormones that bolster growth and regulate a baby's sleep-wake cycles
Helps with the uptake of iron from food and contains enzymes to support digestion
Offers prebiotic sugars that feed baby's microbes
These prebiotic sugars are called human milk oligosaccharides or HMOs. And breast milk contains 100 – 300 unique HMOs, which your baby cannot digest. But baby's bifidobacteria can.
Levels of HMOs in breast milk are highest directly postpartum when your baby nurses on colostrum. It turns out that bifidobacteria make up a stunning 90% of the microbes in breastfed newborns.
In addition to acting like a prebiotic and feeding baby gut microbes, prebiotic HMOs:
Bind to bacteria, viruses, and toxins
Encourage the development of baby's immune system
Fortify baby's gut barrier
But breast milk may not always give baby the probiotic boost that you're looking for.
If you've had your genes tested, folks with an active FUT2 gene are called "secretors." And secretors have roughly 20% more prebiotic HMOs than non-secretors.
Babies of non-secretors get a late start in building their communities of bifidobacteria and this is when a bifido-heavy probiotic might be a good idea.
In addition to all of that, your own diet can also impact the levels of prebiotic HMOs in breast milk.
Animal studies show that a high-fiber diet is filled with prebiotics that support a higher level of HMOs in breast milk. For example, a high-fiber can mean lots of daily organic green leafy veggies, berries, and starchy vegetables.
Likewise, a high-protein diet may lower the levels of milk sugars in breast milk, in turn impacting communities of good bacteria.
Baby probiotics FAQs
When can I give my baby probiotics?
If necessary, you can give your newborn probiotics with his first feeding.
How do I give probiotics to my baby?
The probiotics I suggest are packaged as a powder. If in capsule form, you can open the capsule.
If breastfeeding, I suggest dusting your finger with the probiotic between feedings, 1-2 times a day, and allowing baby to suck it off. If you pump, offer it with breast milk. If your baby takes formula, add it to the formula.
You can also use a tiny set of spoons to measure the probiotic. I like to start with the smallest "drop" spoon.
How do I make healthy breast milk?
Take care of your own gut health.
The gut and your breasts are connected by something called the entero-mammary pathway. This means that the health of your gut and the quality of your diet is reflected in your breast milk.
So, avoid synthetic non-calorie sweeteners, eat a high-fiber diet with plenty of fermented foods, take your prenatal, and take a high-quality probiotic supplement.
Which probiotic brands do you recommend?
The probiotic blend that I use most often is Smidge Infant Probiotic and those made by Seeking Health. More on that below!
The probiotic that you recommend costs more than I expected. Is there another option?
When you get a bottle of Smidge Infant Probiotic, it's like buying in bulk.
That one little bottle will last some mamas a year or more.
But if you're looking to make a smaller purchase, then YES. You could go with a bottle of Smidge Sensitive Probiotic capsules. It's similar to the infant formula except that it:
Comes in a capsule, so be prepared to open them
Has added Lactobacillus plantarum
Has not been formulated for babies
L. plantarum can be found in breast milk and in stool from healthy, breastfed babies.
What's more, in my own work with babies, I have noticed a low tolerance to histamine. And L. plantarum helps to break down histamine.
The best baby probiotics + when to use them
Baby antibiotic use or formula-fed
Look for strains:
Bifidobacterium, this species is more common healthy babies
Lactobacillus
Seeking Health ProBiota Infant Powder
Colic
I have a lot to say about colic and reflux. While research reports mixed results when using probiotics for colic, I have found that a low-histamine probiotic can make a big difference.
Look for strains:
Bifidobacterium, this species is more common healthy babies
Lactobacillus
Smidge Infant Probiotic with Seeking Health Probiota Immune, a prebiotic.
Eczema
Avoid probiotics that produce histamine, like: Lactobacillus reuteri, Lactobacillus casei, Lactobacillus delbrueckii subsp. bulgaricus, or Lactobacillus brevis. You can find more on probiotics for eczema HERE.
Look for the strains:
Lactobacillus plantarum

Bifidobacteria
Seeking Health ProBiota HistaminX
Mama antibiotic use
Look for lactobacillus strains, like:
Lactobacillus gasseri
Lactobacillus rhamnosus
Lactobacillus fermentum
Lactobacillus salivarius
Mastitis
Remember the entero-mammary pathway I mentioned? Probiotics are fab for mastitis. Look for strains:
Lactobacillus fermentum

Lactobacillus salivarius